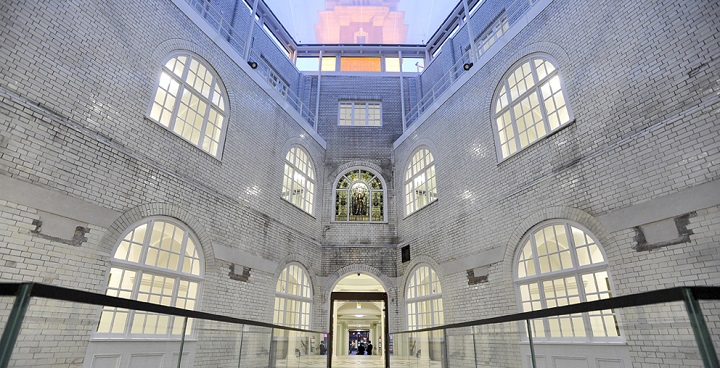 Contractors Morgan Sindall, who carried out the extensive refurbishment work, picked up the prize at the annual awards dinner at the Royal Lancaster hotel. The prize is awarded to projects that display "high standards achieved in the repair, reuse and revitalisation of historic buildings, sites and places".
The Town Hall reopened earlier this year following a two-year refurbishment which included a painstaking restoration of the building's heritage features, while reconfiguring the interior design to create a more open-plan environment. This met the ambition to make the Town Hall more open and accessible to the entire community.
The council had to gain listed building consent to carry out the latest works on the Town Hall – including alterations and upgrades to services, heating and lighting. During the refurbishment, a total of 2,598 people worked on the site – from demolition to French polishing. Of these, 299 – or 11.6 per cent – were local. Nearly 6 km of new copper pipework was used.
The entrance area saw the most dramatic transformation during the refurbishment, with the creation of an atrium from an old light well. A transparent [ETFE] roof, with spans up to 20 metres, now encloses the atrium. A new walkway bridge spans the basement, linking the entrance with a new reception area.
Word from the Cabinet
Lambeth Cabinet Member for Finance, Cllr Andy Wilson, said: "The refurbishment of our historic Town Hall was a central part of this ambitious project. We recognised our responsibility to the people of Lambeth, to restore the building sensitively and creatively, but also to ensure that it could provide increased access to the whole community in the 21st Century. This award confirms that Lambeth and our contractors have achieved our objectives.
"But the Your New Town Hall (YNTH) scheme was not just about preserving existing buildings. It is a wide-ranging project to reduce our core office buildings from 14 to two, saving at least £4.5m a year – and it has already generated cumulative savings of £10 million.
"The benefits of YNTH also include 219 new homes for rent and sale – of which 47 per cent will be affordable – including the recently completed Wynne Road project."
Constructing Excellence is part of a national industry network charged with driving the change agenda in construction. They seek to improve industry performance through collaborative working across the whole sector, including all parts of the demand and supply chain, all disciplines, professions and trades.
The Constructing Excellence SECBE Awards are unique in their recognition of some of the best teams and organisations in the region and aim to inspire others to learn and benefit from their stories.
Sarah Collins, head of R & D, Rift Group head judge and sponsor of the Preservation & Rejuvenation Award, said: "In this category, we look for high standards achieved in the repair, reuse and revitalisation of historic buildings, sites and places.
"This [YNTH] project gained exceptional client feedback. The team established expectations early in the project and managed them through collaboration and a commitment to mobilise heritage skills and training."