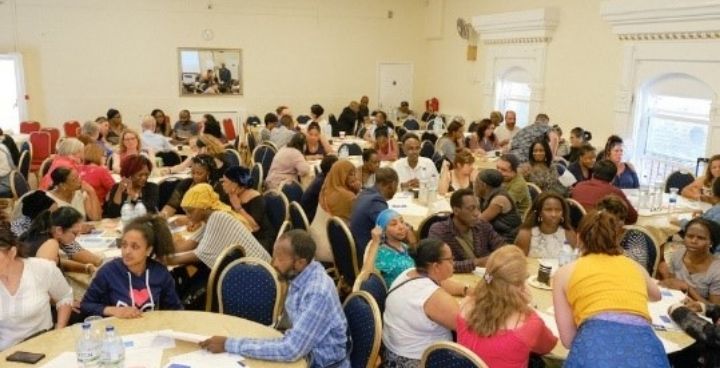 Over 150 learners and staff celebrated some amazing achievements at the Lambeth Adult Learning End of Year Conference in July.
Exceptional learners win awards
Health & Social Care learner Mena and the ESOL for Active Citizenship group held at Granton Primary School both won prestigious awards, selected from among the 3,000 Lambeth residents studying with Lambeth Adult Learning.
The event also saw several learners talk about their own stories and learning experiences.
Idera finds works as a tutor
Many learners found employment after studying at Lambeth Adult Learning, including Idera who completed introductory level courses in ICT.  These skills helped her develop modern workplace and employability skills to create a professional CV and apply for jobs. The learning also helped her confidence and self-esteem improve enormously.
Idera told other learners how learning helped her find her dream job as a Yoruba language tutor, saying, "Every adult has the potential to become who they want to be.  Their journey is not over, but just about to begin".
Ishola is now working as a manager in the care sector
Ishola also found a rewarding job after looking for work for a long time. He joined a Pre-Employment Training programme which helped him understand different roles in the care sector, what they involve and how to develop the skills needed. The course was run in conjunction with a care employer who guaranteed an interview for a real job vacancy at the end of the 3-week programme. Ishola's confidence and skills improved and he was offered a job immediately after the course.
A year later, he was asked to apply for the role of Deputy Manager. He was successful and is now enjoying his new job enormously.
Ishola says "I would encourage anyone who has been looking for work to go on the Pre-Employment Training programme because it could be the start of something new and life-changing for you too."
---
 Turn your own life around with Lambeth Adult Learning
Lambeth Adult Learning has almost 500 courses on offer and helps over 3,000 Lambeth residents learn something new each year.  New courses start in September 2019.
Find out more at https://www.lambeth.gov.uk/schools-and-education/lambeth-education/adult-education-guide.