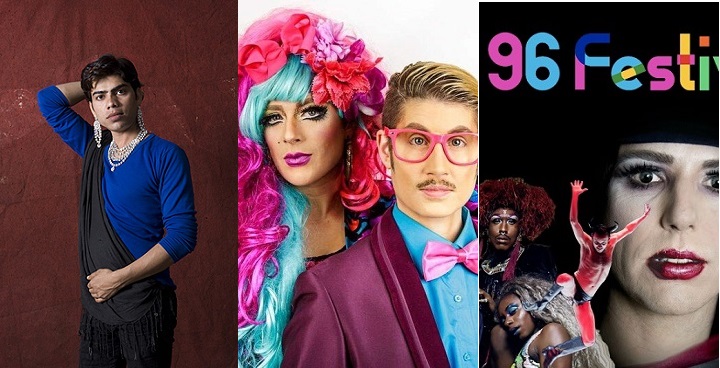 LGBT+ History Month in Lambeth includes chances to be at storytelling events in our libraries, a season of theatre and an exhibition of photography lasting all month, as well as the one-off events.
Word from the Cabinet
Cllr Sonia Winifred, Cabinet Member for Equalities and Culture, said: "Lambeth Libraries have co-ordinated this programme to give an insight into LGBT+ history, giving us all the opportunity to understand and challenge discrimination and promote equality, diversity and inclusion. The vibrancy of Lambeth is very well reflected in the diversity of our communities and our commitment to equality. I hope you will join us.
Drag Queen Storytimes: Saturday 9 February, 12pm Tate South Lambeth Library;  Wednesday 13 February, 10.30am West Norwood Library; Friday 15 February, 10.30am Clapham Library; Tuesday 26 February, 10.30am Brixton Library
With songs, arts and crafts, and storytime with extra glitter, there's fun for all ages. Drag Queen Story Time (DQST) is where fairy tales come to life. Where dress up is real. This event will capture the imagination and fun of the gender fluidity of childhood. By providing spaces in which kids are able to see people who defy rigid gender restrictions, DQST allows children to imagine the world in which people can present as they wish.
Sunil Gupta and Charan Singh 'Delhi: Communities of Belonging' Art Exhibition 
Photographers and artists Gupta and Singh have created work that addresses gender and sexuality in India today. Their ground breaking exhibition Delhi: Communities of Belonging chronicles contemporary LGBT+  life in Delhi. It enables us to witness the intimate, ordinary and loving moments of 17 diverse individuals and couples and offers an unprecedented portrait of queer  lives in India. During February Brixton Library will hosting a selection of the series.
96 Festival –20 February to 24 March. Omnibus Theatre, 1 Clapham Common Northside. London SW4 0QW
A glittering line-up of artists will set up camp at Omnibus Theatre for a spectacular celebration of queerness and theatre. A no holds barred extravaganza of cabaret, drag, burlesque, theatre, music, art and activism; 96 Festival has been conceived in remembrance and celebration of the iconic Pride party on Clapham Common in 1996.  For a full programme www.omnibus-clapham.org/96-festival-2019  Box Office: 0207 498 4699 Email: enquiries@omnibus-clapham.org
For more information
Get a guide to what's on when and where from your local library or Lambeth's information pages.