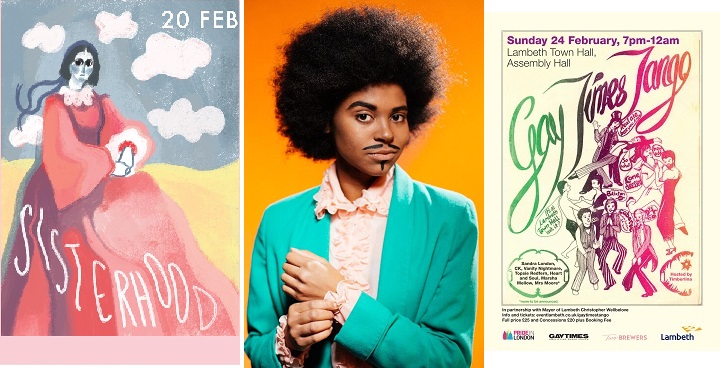 2019's LGBT History Month theme is Peace, Activism and Reconciliation. – exploring LGBT+ activism in the 50th year since the Stonewall Riots. Lambeth Libraries will host a series of events including Q&As with local authors, reading sessions for all ages and art exhibitions that explore the contribution LGBT+ people have made to all our lives.
Word from the Cabinet
Cllr Sonia Winifred, Cabinet Member for Equalities and Culture, said: "Lambeth Libraries have co-ordinated this programme to give an insight into LGBT+ history, giving us all the opportunity to understand and challenge discrimination and promote equality, diversity and inclusion. The vibrancy of Lambeth is very well reflected in the diversity of our communities and our commitment to equality. I hope you will join us.
Events 16 February – 3 March
Queer Alphabet Soup – An evening of LGBT+ Spoken Word  Tuesday 19 February, 7pm , Tate South Lambeth Library
Readings and performances from: Isabel Waidner, Len Lukowski, Julia Bell, Zia Almos Yeshua, Holly Casio, Sogol Sur and Ashley Howard. Join us for a great night – All free!
Polish Women Writers Past and Present: 'Enthusiasts' of the 1840s and Today – Wednesday 20 February, 7pm, Brixton Library
Celebrating the bicentenary of Narcyza Żmichowska, the first Polish author to write about women's friendship, sisterhood, education and independence. Ursula Phillips (translator) introduces Żmichowska's novel The Heathen. Followed by discussions with modern writers on 'women's writing' and 'lesbian/ queer writing'.
Gay Times Tango Sunday 24 February, 7pm to midnight, The Two Brewers, Clapham
For the 44th anniversary of the Gay Liberation Front fundraiser, Mayor of Lambeth, Christopher Wellbelove, hosts a celebratory event in partnership with London Pride, Gay Times and the 2 Brewers.  Proceeds to Gay Men Fighting Aids and Mosaic Clubhouse. Tickets via eventlambeth.co.uk/gaytimestango
Queer lives in print with writers Will Eaves and Jennifer Hodgson Wednesday 27 February, 7pm , Brixton Library
Join Will Eaves (Murmur) – a novel about Alan Turing – and Jennifer Hodgson (Editor of The Unmapped Country: an anthology of Ann Quin writings) to discuss their recent books and the writing of queer lives.
Drag King workshop  Sunday 3 March, 2pm. , Clapham Library
Exploring gender through performance, particularly in the form of drag 'kinging' (the opposite of drag queens), using the body, movement, voice, and character detail to build a persona. It's for total beginners and performers of all gender identities. Booking essential.Via Eventbrite.
For more information
Get a guide to what's on when and where from your local library or download from Lambeth's information pages.