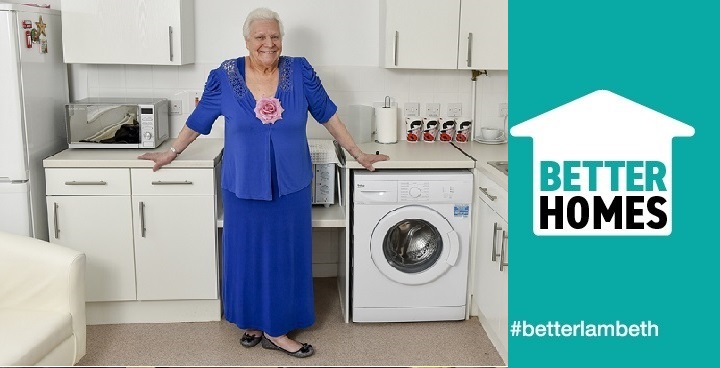 Lambeth Council set out the Lambeth Housing Standard (LHS) after consultation with over 6,000 residents on what works should be a priority for their homes. The Council pledged to invest over £450m in works to make 49% of Lambeth Council housing that did not meet the standard in 2012 as warm, safe and dry as residents agreed.
In 2017/18 we budgeted for more than £70m of works to improve homes on Lambeth's street and estates. The money comes from government grants.
Flossie's story
Flossie was delighted with the contractors who fitted a bright, white new kitchen and updated bathroom in her home in a Lambeth sheltered housing scheme.
"I think these boys deserve a medal and if I could I'd buy them one. They were the nicest, kindest, friendliest repair men ever. They never shouted or swore in front of the customer, they cleared up the mess at the end of every day.
Planned work
"Where you're seeing my kitchen now wasn't really a kitchen at all. First, the Resident Liaison Officer came round with layout plans for every flat. I chose my cupboards and walk-in shower, because I love white. The contractors helped push everything into the corner and put down floor protection. They would always tell you every day what the job was and how long it would take. They worked late one night so the space for the washing machine would be ready when it was delivered.
Multi-tasking
"I used to be a dancer, and I could see how it was all choreographed – 'You go there and you go there'. Everywhere you looked there was someone doing a different job – downstairs putting in wet rooms, upstairs fixing the roof, and scaffolding all the way round.
Staying clear, staying safe
'We'd all go down to the communal lounge, watching telly and having a talk, and we had our meals there then come back and it was clean. I used to joke that it was like going to prison with all the security – but we knew it was all health and safety for our own protection. It wasn't like you were stuck in a well for three days while they did the wiring and fitting the kitchen around you.
Manners help get the job done
"The contractors were here to do a job but they were friendly too – it costs nothing to say 'hello, have a lovely day' or to stop for a minute and dance with an older lady like me. Their work was excellent, too – and if I hear anyone say different they'll have me to answer to."