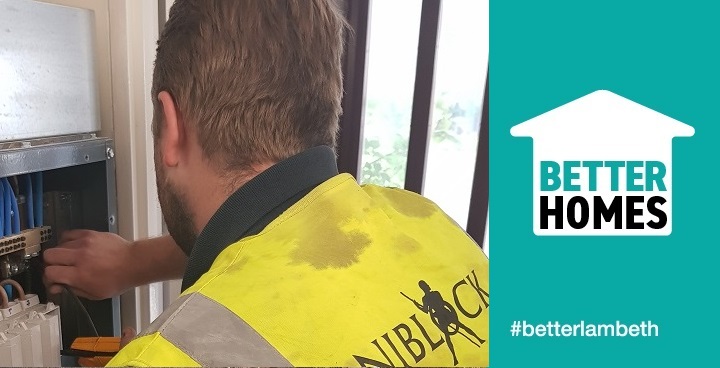 Lambeth Council set out the Lambeth Housing Standard (LHS) after consultation with over 6,000 residents on what works should be a priority for their homes. The Council pledged to invest over £450m in works to make 49% of Lambeth Council housing that did not meet the standard in 2012 as warm, safe and dry as residents agreed.
In 2017/18 we budgeted for more than £70m of works to improve homes on Lambeth's street and estates. The money comes from government grants.
David's story
Resident David is delighted with the work on upgrading the rising mains and communal lighting on his estate.
Lighter for safety
"Better lighting will help people feel more secure on the estate and in their own home. Even though we have controlled entry, if someone got in and rung my doorbell it was too dark to see them through the spyhole. Now the corridors are well lit so I can see any unexpected visitor really clearly.
Safe supply
"I'm delighted we have updated wiring. I have three lamps in the living room. They're all identical, bought on the same day, and I've tried swapping them around but whichever one was plugged in to one socket always flickered. That will stop being a worry."
Clean and tidy contractors
"I know some people complained about contractors not leaving the place clean but I walk the stairs daily and saw the guys really making sure that the stairs, lift and walkways were spotless at the end of the day. I think people were seeing domestic waste on stairs and lifts after Niblock's team had cleaned up and left for the day.
Delivering a major programme of work
"The team were always helpful if they had equipment in the way of my way out of the building. Particular mention must go to the team leader Ross who not only made sure his team delivered the service, but was also really helpful in talking to the estate caretaker about some residents causing anti-social behaviour. They made what is a major work program so much easier to live with and answered any question clearly, politely, friendly and with respect. In return, my neighbours and I helped them by saying if we knew people were on holiday or working so they could timetable their visits."
---
For more information
 We would usually include contact emails or web pages where you can find out about the planned programme – following up with web team.