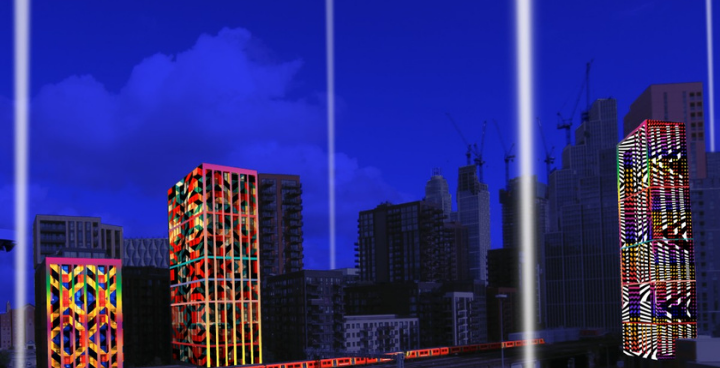 The Line of Light festival will see buildings projecting beams of light into the sky to create a spectacular large-scale light installation this weekend.
It is co-presented by Lambeth Council and Wandsworth Council to shows appreciation for those who live around the expanded tube network that opened in September.
Sonia Winifred, Cabinet Member for Equalities and Culture, said: "The Line of Light festival is our way of celebrating those communities who live above the extended underground route."
"The theme is togetherness and connectivity, which is why I hope communities, both old and new, can use this as a chance to meet and celebrate the uniqueness of where they live."
There will be a programme of events from the community hub site that will be set up in Wilcox Road to host performances and activities for local people, as well as another in Wandsworth.
They include:
Neon Performing Arts – A showcase of work from performing arts students who will also lead creative activities. Neon Performing Arts aim

s

to be involved and engage with the next generation of artists and performers.
The Boury Academy – The academy will be showcasing performances from their students. The organisation aims to increase access to professional performing arts, increase diversity in the arts and to build confidence, creativity, and community cohesion.
Battersea Power Station Choir – The choir will perform a selection of fun and popular musical numbers under the direction of Sam Evans. The group was established in the summer of 2016 and now has more than 100 local members.
The Line of Light was created by Australian artists Projection Teknik, which uses a daisy-chain of high-density beams to paint the route of the tunnels onto the sky from Kennington to Battersea Power Station.  A selection of buildings along the route will also be lit up with a series of colourful visual projections.
The voices of local people have been recorded to create a soundtrack to accompany the light show. Lead artist Sam Jones, of SoundThread, has worked with community leaders, libraries, local arts organisations, and Royal College of Art students.
Violinist Emma Smith will also interpret local musicians' pieces into a string arrangement and will be released in a series of short podcasts available to download by visitors as they walk the route.
The Northern Line extension involves more than 3km of tunnels from Kennington to Battersea Power Station to provide access to the West End within 15 minutes.
It is a major milestone in the multi-billion-pound transformation of Vauxhall, Nine Elms, and Battersea including thousands of new homes and amenities in Lambeth.
Cllr Winifred added: "We have tried to put local people at the heart of the festival programme, whether it's recording local voices for the soundtrack or providing music and activities at Wilcox Road community hub.
"I hope as many people as possible can join us for what is set to be a spectacular show of light and sound."
The Line of Light takes place on Friday 29th and Saturday 30th October from 6.30pm – 10pm.
For more information visit www.nineelmslondon.com/lineoflight