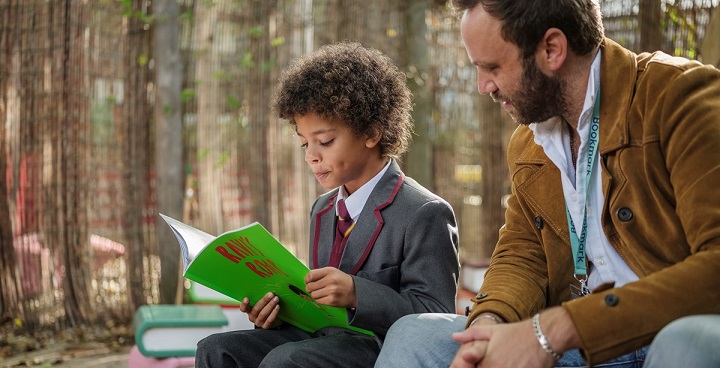 More than 1 in 3 children in Lambeth are growing up in poverty. This impacts on their literacy skills. The current literacy problem in England is huge, with 8 children in an average class leaving primary school unable to read well. In Lambeth, new charity Bookmark is changing that. Volunteers visit nearby primary schools, twice a week for six weeks, to help children aged 5 – 8 develop reading skills and confidence.
Way of finding more
Streatham volunteer Claire joined last term: "The first child I worked with was a long way behind. For him, the only way to spend time is skateboarding. So, I brought a couple of library books about it … Suddenly, he realised books weren't just something you were forced to read, but a means of finding more about something you love."
Growing and growing
Bookmark has grown considerably: at the end of summer term, its programme ran in four schools – now it's 27. CEO Kitty Higgins comments: "We're so pleased to be in Lambeth, training local residents to support the children in their community. Reading is so much more than just enjoying books. It's an essential skill for education and employment. Adults who struggle to read are known to be likely to have health problems, and maybe even shorter life expectancy. We hope more people in Lambeth will volunteer so we can ensure that children in the borough aren't held back."
Volunteers wanted
Bookmark have developed a flexible, accessible volunteering programme. Volunteers use an app to choose a school and book sessions that fit into their schedule. If you live or work in Lambeth, why not start a new chapter in 2020 and spend one hour a week helping a local child learn to read?
For more information
Find out more about volunteering, or contact Bookmark.
The National Literacy Trust found that children who like reading are five times as likely to read above their level than their peers; studies show that people who read for pleasure have higher self-esteem and a greater ability to cope with difficult situations.