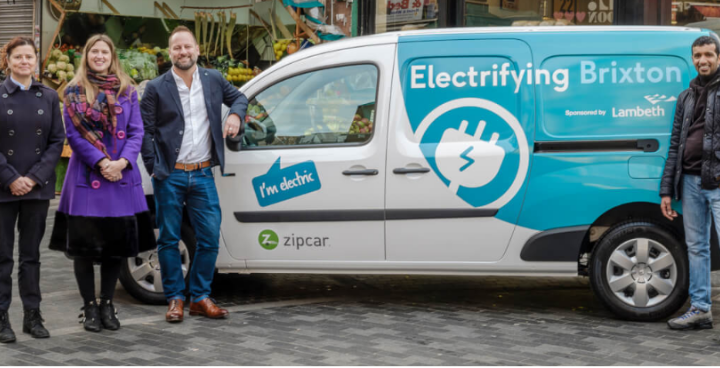 A shared e-van has been made available to Brixton businesses since November 2019, thanks to a joint collaboration between Lambeth Council, Brixton BID, Zipcar for Business and Cross River Partnership's Clean Air Villages Programme.
Positive feedback
The project was due to end on the 25 November 2020. Following positive feedback from local businesses, Brixton BID and ZipCar, in partnership with Lambeth, have agreed to provide the e-van for another year. Local businesses will have exclusive shared access 24/7.
Unlimited access
In order to give unlimited access to the e-van to local businesses, ZipCar and Brixton BID have agreed to offer businesses a discounted rate, saving local businesses up to £4 an hour or £55 per day. Lambeth will ensure the spot can continue to be used for e-van parking.
Reducing air pollution
The e-van has brought many benefits to local businesses, and reduced air pollution caused by deliveries. In 11 months, Evie has been driven for over 7600 miles, saving a total of 1419 kg of CO2.
Word from Cabinet
Deputy Leader of the Council (Sustainable Transport, Environment and Clean Air) said: Cleaning up Lambeth's toxic air is one of our major priorities. By providing local businesses with shared access to an affordable electric vehicle, we can make sure we're supporting them to lower their carbon footprint, cut down on carbon emissions produced by diesel and petrol vehicles and help businesses to stay afloat in these uncertain times.
Brixton Bid
Gianluca Rizzo, Managing Director of Brixton BID said "In these difficult economic times, we are doing everything to support our businesses whilst also being considerate towards the environment. Our mission to make Brixton a sustainable business destination continues.
Zipcar
James Taylor, General Manager at Zipcar said: We have been delighted with how popular Evie has been with the Brixton business community, and are proud to continue to offer local businesses in Brixton use of the e-van, which will help to further improve quality of air and reduce local congestion"