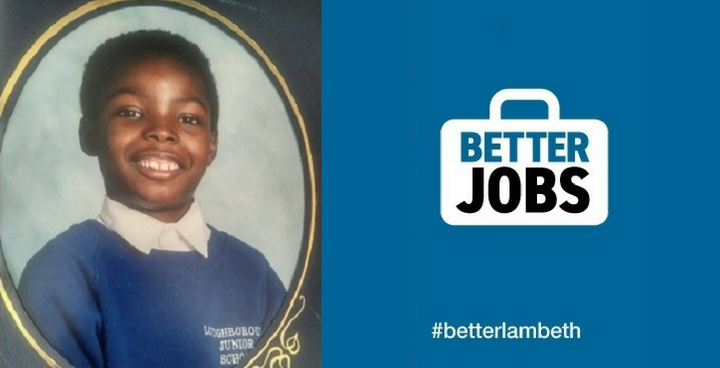 Workwise – a partnership between Lambeth Council and St Mungo's homelessness charity – aims to help Lambeth residents at risk of losing tenancies through welfare reform. Cases mainly include Benefit Cap, Universal Credit and "Bedroom Tax". Support is given to find paid work or gets people closer to work through training, qualifications and advice.
Local priorities
Employment & Advice Officer Lionel Ighodaro recently joined the Workwise Team. Helping people in Lambeth is a priority for him: he grew up in the borough and identifies strongly with local people facing money issues.
Local roots
"My parents were council tenants, I went to Loughborough Primary, then Archbishop Tenison's. They moved to Kent, but when I came back to work in Lambeth, my team was based in Brixton Library – the very library I'd go to revise for my GCSEs back in 2004! I tried to register for library membership – I was already on their system. I've paid my library fines now.
Taking a resourceful approach
"Workwise isn't like a job centre. We offer one-to-one help, we work with what people want. I used to work in City recruitment, I sometimes felt all I was doing was getting someone an even bigger pay cheque. This is a much wider portfolio helping people whose life centres around homes and families. It means being resourceful about looking at jobs, and influencing employers to realise they're overlooking a hidden resource. I bring expertise in working with employers and matching people find work that suits them to roles available.
Lambeth knowledge
"I believe I can also be a message of hope – they're seeing someone from a background like their own and who knows about living in Lambeth, helping them in a professional role. I've worked with people who recognise me from school. I've helped one of the dinner ladies from schooldays go back into part-time work. I really feel I'm working for Lambeth people, in a role where I support residents back into sustainable employment."
---
For more information
If you're a Lambeth tenant

affected by a reduction in housing benefit due to a spare bedroom.(Bedroom Tax)
affected by the Benefit Cap or
on Universal Credit and would like to know more about Workwise, get in touch

If you'd to discuss support options, contact Welfare Solutions Team
For more information about Workwise see their Annual Report 2017/18