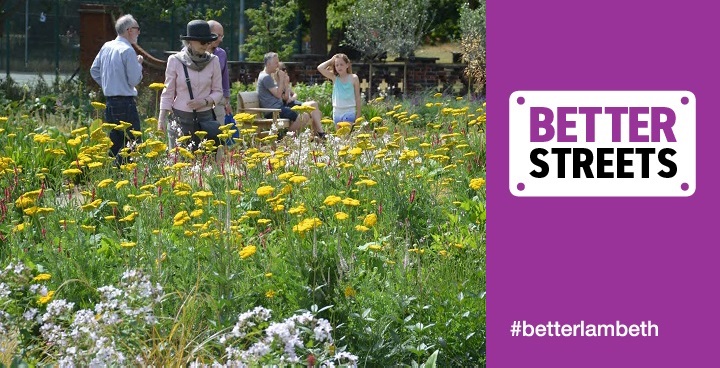 London Borough of Lambeth was awarded silver gilt for the quality of parks and gardens, community gardening projects, local business participation and the overall cleanliness of the Borough. Winners range from small community-led projects, through conservation areas, churchyards, parks and Heritage Parks & Gardens to the whole Borough.
London in Bloom
London in Bloom is 50 years old this year. We are part of Britain in Bloom, founded 1964. We're all volunteers, our region is an independent charity.  The Royal Horticultural Society (RHS) organises the Britain in Bloom National Finals and we judge to nationally agreed criteria.
People getting involved
Judges look at three main areas – Horticultural & Gardening Achievement, Environmental Responsibility and Community Participation. They wish to see fresh, innovative approaches to maintaining or enhancing those core objectives.  In some ways the most important is community participation – people who use gardening to make a difference on the road, on an estate or supporting their local Park.
Growing and growing
In 1967 we had 29 entries; this summer, 350. London Boroughs can enter one of the 'City' categories, we also accept entries from community groups, Business landscapes, Business Improvement Districts within the Boroughs. No matter how many nominations we get, more places deserve recognition. Presenting an award to a community group is a special moment, it's great to see the smiles of people who maybe have not won a gardening award before or have achieved more than they thought possible – especially by working with others to make a better place to live or work.
Judging process
Each nomination is scored by two judges, on a planned route. This year, for the first time, we added a 'people's choice' award including pub floral frontages, and favourite Parks. West Norwood Cemetery entered for the first time and won Silver – the biodiversity of wildflowers and native species is impressive. Lambeth is successful in supporting community gardening, and London in Bloom would like to see more groups recognised.
Blooming in the future
London in Bloom hopes to work with the Mayor of London's Office and other organisations on a London-wide environmental strategy – including tree planting to help improve air quality and to see our precious Parks & Open Spaces conserved and maintained.
---
For more information
For details of how to enter a community garden, park friends group, churchyard, cemetery, etc. for London in Bloom, along with entry fees and guidance on filling in the application form, see London in Bloom's information pages.
For details of where in Lambeth you can find green or flowering spaces judged by London in Bloom, contact the Parks and Green Spaces Team at Lambeth Council