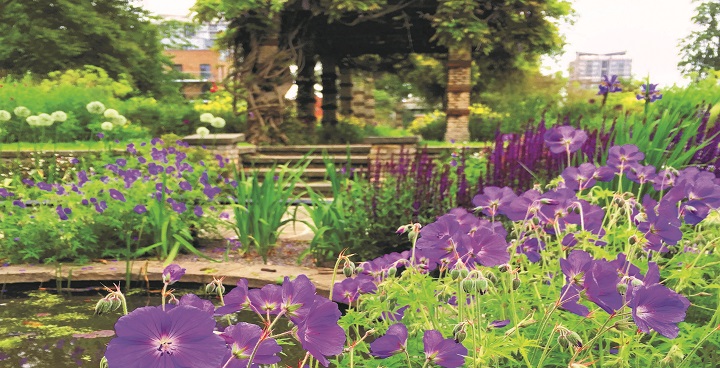 The Good Parks for London Report 2018 evaluates 'green spaces' management by local authorities against 10 criteria. Lambeth's parks scored third of all 33 London boroughs, with 39.5 marks from a possible 50. Our highest marks included quality and events. We're also the highest-performing council to have services delivered in-house rather than contracted in.
Word from the Cabinet
Cllr Sonia Winifred, Lambeth Council cabinet member for equalities and culture, said: 'This report looks objectively at the time, effort, innovation and energy councils and volunteers invest in London's parks. It benchmarks and highlights good practice in boosting biodiversity and our residents' health, and making our boroughs ever better places to live.'
Lambeth high scores
Quality scores are based on two independent awards:
Lambeth's green spaces scored borough-wide silver-gilt in London in Bloom 2018, with eight parks also winning individual silver-gilt – and two winning gold.
The Green Flag Awards are managed by environmental charity Keep Britain Tidy. Keeping your flag can be as hard as winning – judges visit every park every year. Lambeth now has 15 Green Flag sites (over 10% of our parks) so we're in the highest category with scoring based on percentage of sites in the borough with a Green Flag.
Events
Parks for London score this category based on proof of a mix of "charity and commercial events that increase public use of parks and promote social cohesion." EventLambeth work with the organisers of almost 300 community, charity and commercial events in our parks for up to a million people – including the annual Lambeth Country Show which has become so important to the community.
Friends of the parks
This report comes at a time of continued cuts to Council budgets, and while London faces growing environmental concerns around air quality. It highlights the vital work done by 'Friends of' groups to sustain the environment in parks, cemeteries, gardens, and woods. Lambeth's 'Friends of' network does vital work in conservation, local history, innovative organic farming, mental health and wellbeing gardening projects. Kevin Crook, Assistant Director in charge of the Lambeth Landscapes team, said: 'The best practice examples in this report are a talking point for us and the Friends groups – they inspire us for next year.'
For more information
Download the full Good Parks for London 2018 report