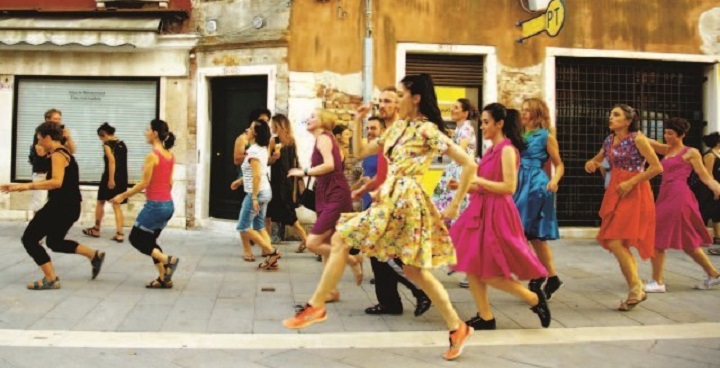 One of the 12 works chosen by the Hayward Gallery as part of Art Night is a unique participatory performance devised by Marinella Senatore – The London Procession. The procession will reflect the many reasons people have taken to the streets throughout history – protest, dance, music, theatre, religious festivals and sporting activity – as part of the theme of 'urban landscape'.
Letters of invitation
The procession works its way from Battersea Power Station to the Hayward Gallery overnight and the artist has sent letters to Vauxhall Garden Estate residents inviting them to be part of the show:  "Have you got a secret talent? Are you part of a group or organisation? Do you sing in the shower? Or do any, all, or none of the above? JOIN US! The performance will consist of a series of actions by local community members alongside dancers, musicians, athletes.
Develop your idea with the artist
"You can present anything you like, or develop an idea together with the artist, who will be happy to meet you in person.
Open and free
 "The event is free and voluntary – no prior skills are necessary, everyone is welcome to join! In addressing social questions, this artwork will become a monument to the performers and to the Vauxhall Garden Estate community."
Contacts and meeting
Get in touch to participate! Email the open call address or call 07 470 305 952. We look forward to hearing from you – and if you don't want to perform, we hope you will join us in watching the performances on the night!"
Vauxhall Gardens TRA will welcome people to their community hub at the Carmelita Centre to join the procession. "The team at VGERTA  are delighted to welcome the Vauxhall Community to meet at The Carmelita Centre and have an opportunity to be part of this unique and exciting event."
Performance details
Date: 7 July
Time: 7:30-8:30pm
Venue: Vauxhall Garden Estate
---
For more information
For details of all the major artworks selected by the Hayward Gallery and the projects in local galleries and with Lambeth-based artists see the ArtNIght information pages