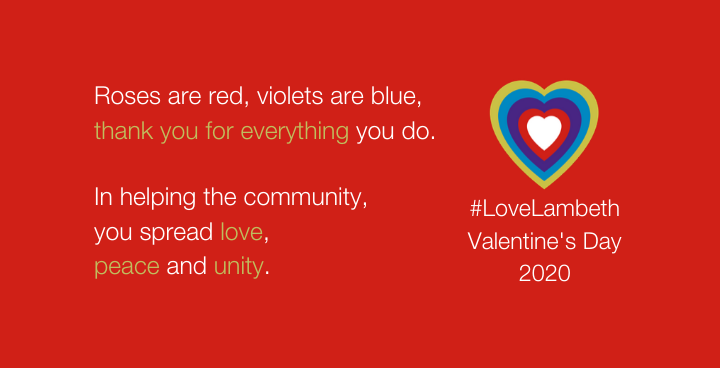 We all know a colleague, a neighbour or local organisation that helps to make our community special, maybe by always lending a helping hand in work, volunteering for a local charity, mentoring young people or serving with a smile in your favourite coffee shop. They're the people who make us #LoveLambeth, but they don't always get the recognition they deserve!
Spreading peace, love and unity
This Valentines Day we're calling on everyone in Lambeth to take a moment to thank a person or organisation and to nominate a friend or colleague to do the same!
The #LoveLambeth campaign was planned before the shocking terror incident in Streatham at the start of February, but the amazing response from the community, who pulled together and showed that love will always win has given us extra encouragement to spread the message.
Three simple steps
It's easy for anyone to join in. There are three simple steps to follow:
Step 1: Love
Do something to celebrate a person, place or organisation that makes you #LoveLambeth
Step 2: Share
Make them feel extra-special by sharing your appreciation on Facebook, Twitter, Instagram or whatever social network you use, with the hashtag #LoveLambeth
Step 3: Nominate
Spread the love by nominating someone you know to do the same!