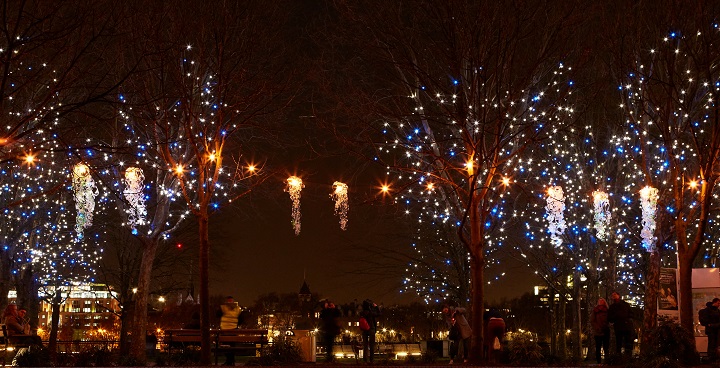 The Lumiere London Festival in January 2018 was a feast of light and sound, featuring works by over 50 artists. London became a spectacular outdoor interactive event for four nights.
Bottle Festoon
 Lambeth's iconic Southbank was one of the new Lumiere locations for 2018. Bottle Festoon – featuring huge chandeliers made from plastic bottles – was created by local people for display in Bernie Spain Gardens. Artichoke, the arts charity who organise Lumiere, asked people (including Lambeth Council staff) to save bottles. They ran 10 workshops in local libraries, community centres, churches and Lambeth Council offices with 200 people from a mixture of local groups- youth, adult, public drop-ins, and autistic children and made 36 chandeliers. Across London, 6,000 plastic bottles were transformed into 200 Chandeliers.
Word from the Cabinet
Cllr Sonia Winifred, Lambeth Cabinet Member for Equalities and Culture, said: "The Southbank and Waterloo is one of the world's greatest locations for arts and culture, so what better place to bring such a wonderful light show and celebration. It's been great that so many local people got involved in Lumiere, helping to create a fantastic eco-friendly installation from plastic bottles, and being part of a group performance on the Saturday using brightly coloured LED umbrellas."
Plastic and the environment
Marie McCarthy, Artistic Director of Clapham's Omnibus Theatre, said: "We're delighted to host the Bottle Festoon.  Many visitors remark on their beauty but they are also a reminder of  the current crisis of islands of plastic which fits in so well with our programme of work examining what's happening now in the UK and globally."
Neon umbrella dance
Lambeth also got involved in Lumiere's 'flashmob' project led by Cirque Bijou dance group. A workshop at Oval House Theatre trained 22 local people – including school students and Lambeth Council staff – with no dance experience necessary. They performed with neon umbrellas on the streets of Piccadilly, Mayfair and Victoria. One Lambeth dancer said: "Thanks so much for the Umbrella Project – my friend and I had such a fun time! Great arm workout, too."
---
For more information
Bottle Festoon is open to the public from 1 March to 4 April 2018 in the Common Room Bar at Clapham Omnibus Centre, 1 Clapham Common North Side, London SW4 0QW Monday – Saturday 10-6pm and evenings from 6 – 11pm. For more information on plays, workshops and art exhibitions see their 'What's On' pages
The first London Lumiere attracted 1.3 million visitors and won Best Debut and Outdoor Event at the 2016 Event Awards. Final numbers aren't yet available for 2018 which lasted twice as long, with twice as many pieces in double the spaces.