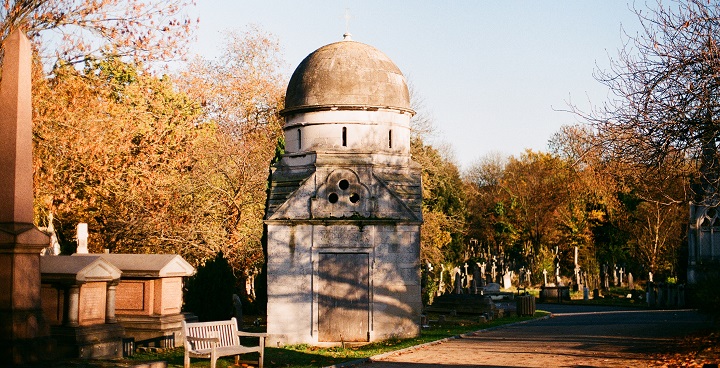 The South Metropolitan Cemetery at West Norwood has received a £4.6m National Lottery grant to save many of its listed monuments from ruin and support a series of exciting community activities. The grant, awarded jointly by the Heritage Lottery Fund and the Big Lottery Fund, will be topped up by £2.1m from Lambeth Council and the Friends of West Norwood Cemetery (FoWNC) to bring the total investment to £6.7m.
Grade II listed
One of London's large 'Magnificent Seven' cemeteries, West Norwood was established in 1836 to relieve the overcrowding in small parish graveyards caused by the huge population growth in the Capital during the 19th Century.  The Grade II* listed cemetery was the first in the UK to be designed in the Gothic Revival style.
What work will be done?
The project was developed by the FoWNC and Lambeth Council following two years of local consultation and specialist input. Outcomes will include:
16 listed monuments on Historic England's 'Heritage at Risk' register repaired and conserved.
two new pedestrian entrances installed to increase accessibility to the cemetery
repairs to the cemetery's infrastructure including pathways, drainage, and boundary walls
improved signage and wayfinding
conversion and extension of the existing lodge to include a visitor centre, that will also be available for community use
the creation of two apprenticeships
a broad programme of activities and opportunities for volunteering.
increased management to enhance the cemetery's biodiversity
St Stephen's Chapel
In addition to other monument restoration work, the Grade II* listed St Stephen's Chapel within the Greek enclosure is to be repaired and conserved, and accessibility improved, to bring it into community use. As part of this work, the responsibility for the enclosure will transfer to Lambeth Council from the Greek Cemetery Enclosures Trust.
All of these improvements will be delivered whilst continuing to operate as an active cemetery and crematorium.
Friends of the Cemetery
Prof Robert Flanagan, Chair of the Friends of West Norwood Cemetery, said: "This grant marks a highpoint in our work to preserve and enhance the cemetery. The improvements that this grant will bring will continue the conservation programme that we initiated some 30 years ago and that has been supported by Lambeth Council over the last 15 years. Whilst we can never reinstate all the lost memorials, in time the cemetery will be returned to something approaching its former appearance and an income stream developed to ensure its continued care and maintenance."
Word from the Cabinet
Cllr Sonia Winifred, Lambeth Council Cabinet Member for Equalities & Culture, said: "This is wonderful news and will ensure that the historic, cultural, ecological and archaeological significance of West Norwood Cemetery will be preserved and protected. I'm excited to see the cemetery evolve into something for the whole community to explore – it's more than just a cemetery, it's a place to learn, relax, contemplate life and get some peace and quiet in the middle of our great city. I'm delighted to be working so closely with the Friends group on this project that will allow West Norwood Cemetery to return to its former glory and deliver its full potential."
Safeguarding heritage
The Heritage Lottery Fund's CEO Ros Kerslake said, on behalf of the Heritage Lottery Fund and Big Lottery Fund: "This National Lottery investment will safeguard West Norwood Cemetery's significant heritage and transform what it can offer as a space for urban nature and wildlife. Whilst its stories and monuments shine a light on the past, the cemetery's worth as a community space means that it will play a valuable and expanded role today".
Remarkable Site
Elizabeth Whitbourn, from Historic England, said: "We're delighted to hear this news. West Norwood Cemetery is a remarkable site, with an outstanding collection of C19 and early C20 funerary monuments which tell fascinating stories and provide a poignant glimpse into our past.  This grant will prioritise conservation of some of the most threatened monuments on Historic England's Heritage at Risk Register."
More infomation
Those buried in the cemetery include Mrs Isabella Beeton, Sir Henry Bessemer, William Burges, Edward Colman, Thomas Cubitt, Sir William Cubitt, Sir Henry Doulton, John Lawson Johnston ('Mr Bovril'), Thomas Letts, Gilbert Hastings Macdermott, Dr Gideon Mantell, Dr William Marsden, Frederick Nettlefold, Sir Hiram Maxim, Baron Paul de Reuter, David Roberts RA, Felix Slade, Charles Haddon Spurgeon, Sir Henry Tate, and Joseph Whitaker.
National Lottery and public parks
Since 1996, more than £950million raised by National Lottery players has been used to support the regeneration, conservation and increased enjoyment of public parks and cemeteries across the UK. Find out more about how to apply at https://www.hlf.org.uk/looking-funding/what-we-fund/landscapes-parks-nature/parks
About the Heritage Lottery Fund
Thanks to National Lottery players, we invest money to help people across the UK explore, enjoy and protect the heritage they care about – from the archaeology under our feet to the historic parks and buildings we love, from precious memories and collections to rare wildlife. www.hlf.org.uk. Follow us on Twitter, Facebook and Instagram and use #NationalLottery and #HLFsupported.