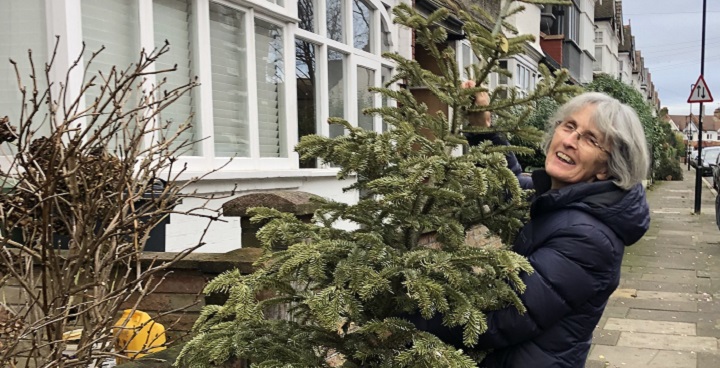 Lambeth's recycling and waste collection partners Veolia recycle all real trees into compost. Lambeth Christmas trees never end up in landfill or in an incinerator. Our scheduled food and garden waste collection crews will collect your tree for free. We ask that you take off all the Christmas decorations as sadly they're not recyclable. Remember to save and reuse your decorations for next year, and try to go for sustainable options that don't use plastic or glitter.
Collection days
Christmas trees are being collected from outside people's homes from January 2, so put them out from now, as soon as you are ready. Collections shifted around in the week after New Year because of the bank holiday, but are now all back to normal. You can check online for your collection day to make doubly sure.
 Bear with us
 Trees take up a lot of space so there's only so many we can collect each day. If your tree isn't collected in the first week, don't worry, just put it out again in time for the next week's collection and we'll get on it.
Recycling centres
If you can't wait, take your tree to one of three recycling sites in Lambeth between 2 and 13 January. There'll be lots of signs up to show where the tree goes. Visit any of the following:
Streatham Common, rear of Upper Common car park, SW16
Clapham Common, Windmill Drive, SW4
Lambeth Re-use and Recycling Centre, Vale Street, SE27 (Open year-round, closed Tuesday and Wednesday)
Making compost 
The trees Veolia collect are mixed with food and green garden waste, then taken to a transfer station at Veolia Southwark, and on to a specialised In-Vessel Composting Facility in Padworth, Berkshire. Here, natural micro-organisms break down organic material, releasing nutrients and raising the temperature to 60-70ºC. Conditions are carefully monitored and controlled for 3 weeks, until the compost is left to mature for 10-14 weeks. The compost is then sold or donated to local community projects, completing the circle by turning Lambeth food waste into compost for Lambeth's gardens.
 Trees in pots
If your Christmas tree was in a pot, please take it out so the tree can be collected and turned into compost – the bin tag attached to your bins before Christmas tells you more.
Artificial trees
If your tree was plastic, tinsel, etc it cannot be collected for composting. If you're getting rid of it, treat it as household waste, not garden or food waste.
For more information
For details of when and where to put your Christmas tree out for recycling, see Lambeth's information pages