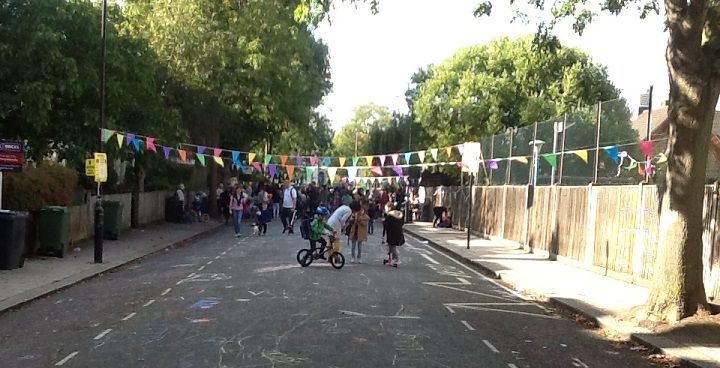 We want to make walking, cycling and scooting to school more attractive for parents on the school run by reducing the traffic and congestion around our schools at the beginning and end of the school day.
'School Streets' are timed road closures around schools, introduced to reduce danger and improve air quality. The road is closed to motorised traffic at school drop off and pick up times but remains open to pedestrians and cyclists.
Parking problems
Limited parking means drivers sometimes park in the most dangerous places right outside the school gates, or stop in the middle of the road, putting children at risk; and annoying local residents through inconsiderate parking.
Impact on air quality and active kids
The resulting environment for those walking, cycling or scooting to school is far from ideal and discourages some families from choosing active travel  – with a knock-on effect for children's activity levels and air quality in the immediate vicinity. Immanuel and St Andrew CE Primary School is the first school to test how School Streets could work.
Closing the road
The proposal is to close Northanger Road using portable gates from 8.15 am to 9.15am and 3.00pm to 4.00pm on term-time weekdays. The emergency services and disabled badge holders will still have access, and residents will still be able to exit during these times. We will use an Experimental Traffic Management Order so any parking while the road is closed is clearly breaking the law.
Control data
Before the School Street pilot starts, we will collect data on travel to school, traffic flow and speeds on surrounding roads, and take air quality readings.
Trial period
The closure will be tried out from mid-March to the end of the summer term in July. Our review of the pilot will consider what worked, with feedback from the school and community. We will look at things like the number of parents who switched to more active travel options as a result of the trial, the impact on air quality and the impact on traffic speed and volumes in the surrounding area. Based on the results of monitoring, along with feedback from the school community and local residents, the closure will be made permanent.
---
Have your say
For more information and to have your say please visit: lambeth.gov.uk/schoolstreetsimmanuel or email SchoolStreets@lambeth.gov.uk
The consultation closes on 4 March 2019.