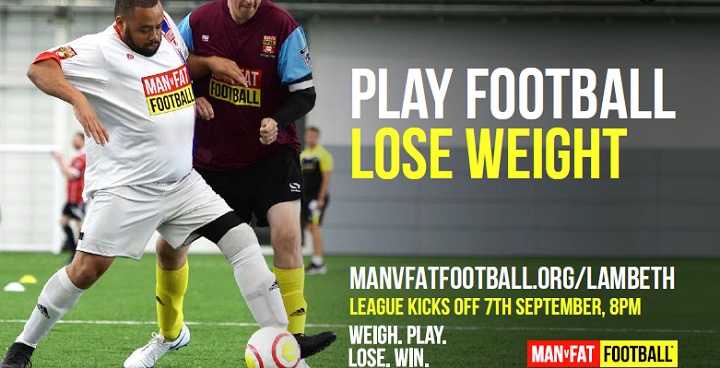 What is it all about
The intervention is available for 16+ male participants to support men who find weight watchers and other weight loss programmes unappealing.
It appeals to men who love football, but hate being overweight. Small sided Teams of men play a weekly game of football with a weigh-in beforehand.
The goals from the game are added to bonus goals teams can earn through their performance on the scales.
Everyone's a winner
The process gamifies weight loss and makes this the only league where losers win. The league is designed to support men with a multi-layered behaviour change process, which engages men through the game and through online and offline support networks. These include
And the man v fat online talk forum which reaches over half a million men every year.
Players are also supported with a specially-produced handbook, apps and a dedicated MAN v FAT Football Weight Loss Coach.
Unique resources
Every player is in the same situation and wants the same thing to enjoy football, lose weight and get healthier. We give support to every player with unique resources, inspiration and 24/7 support to help you lose weight, get fitter and enjoy the beautiful game.
Sign up now
Starts 7 September, 8pm at Ferndale Sports Centre.
Sign up today at ManvFatFootball/Lambeth
(Registration cost £1 which will be refunded once the programme achieves 20 participants signed up to the programme)
The programme is for 16 weeks in total, every Friday. The first session is for signing up, sessions 2 to 15 involve matches and weigh-ins and the final session will be a presentation for all the participants.
---
More information