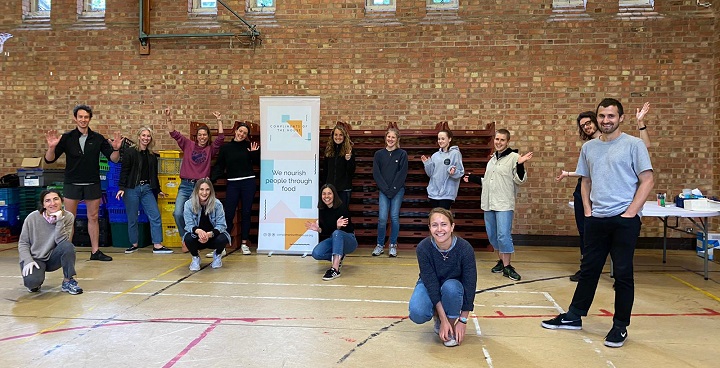 ML Community Enterprise (MLCE), running the Marcus Lipton centre in Loughborough Junction had to close doors to on-site support in March, but are providing key work and counselling remotely for vulnerable young people and the community, many of whom consider MLCE their only trusted support service.  They're working with a collection VCS orgs that have received funding from LBL and have come together in a resourceful way to provide food and other wellbeing activities that enable them to maintain relationships with children and families.
Building new partnerships
Adam Rinarelli of MLCE says: "MLCE recognised that the building we occupy has great potential to support vital services during the crisis, and that by adapting our services we can increase meaningful provision now, while building new partnerships that will be responsive to the unfolding Covid-19 hardship.
Word from the Cabinet
Cllr Donatus Anyanwu, Lambeth Council Cabinet Member for Voluntary Sector and Leisure, said: "Lambeth Council is happy to support and contribute to this initiative and welcomes this partnership that reinforces the Marcus Lipton Centre's role as a trusted site for key work and support in the community, while responding to this crisis by working with partners who add to the  support it delivers day to day."
Compliments of the House
Adam continues: "We're collaborating with two non-profits who will use our site facilities to tackle food poverty across Lambeth. Compliments of the House (and about 180 of their volunteers!) have been monumental in their efforts to provide free food and essential items to the boroughs most vulnerable. They needed more space to expand their operations, so we are now housing Compliments of the House in our Sports Hall facilities.
Vital Meals
Likewise, Vital Meals have been doing amazing work, cooking and delivering free nutritious meals to those unable to feed themselves during this difficult time. They needed more kitchen and preparation space to meet their demand for services, so over at MLCE we are significantly upgrading our kitchen and cooking facilities to house them.
Reaching hundreds of households
This unprecedented time has created greater barriers and disconnection to and from support networks for the people we support, many of which are high risk and facing multiple and complex disadvantages. Covid-19 has exaggerated these issues and in many ways cut people off from their trusted support networks. Groups like Compliments of the House and Vital Meals have been fantastically responsive to this. The opportunity to adapt the Marcus Lipton centre to house and expand their respective work is something we're very pleased about. Both projects will be serving across Lambeth and the local area, reaching a combined 200-300 households each week.
For more information