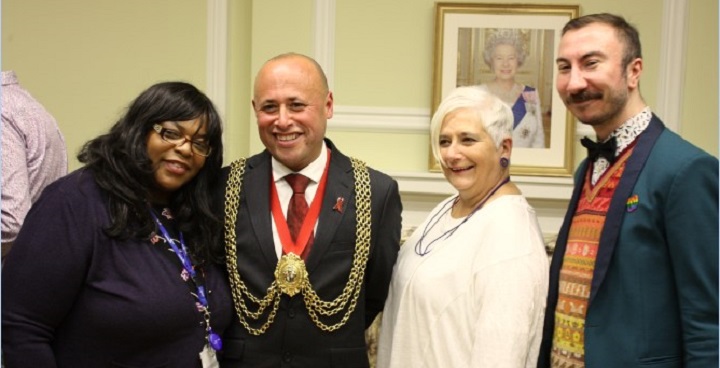 2018 marks 30 years of World AIDS Day. Mayor of Lambeth Cllr Christopher Wellbelove invited HIV campaigners, healthcare professionals and more to the Town Hall to look back and into the future.
From 1988…
Lisa Power, Stonewall co-founder, reminded people of 30 years' HIV history: "Lambeth was one of the first boroughs looking at what needed to be done and continues to be one of the most involved. In 1988, Section 28 made it almost impossible to talk about sexual health. Terence Higgins died in St Thomas'. Gay Men Fighting Aids (GMFA) got started. Now there's treatment that can stop you getting infected, treatment that can help you live as long as anyone else."
In 2018
Dr Greg Usher of Metro said: "Lambeth has always been a beacon borough – with Do It London and the game-changing focus on combination therapies. I want to focus on the different kinds of resilience  I've seen over 30 years. First, community resilience, the volunteers. Second, the medical and scientific communities, always exceeding goals. And of course, the individuals. I've mentioned 'living in the shadow' of HIV, but it's not a shadow, it's a spotlight on what we're capable of."
Future hopes
Lambeth's Cllr Philip Normal said: "Undetectable is untransmittable and the medication that can achieve that, PrEP, is available from the NHS in Scotland, Wales, and Northern Ireland. But we're still facing prejudice, and without stamping that out, we haven't won. Let's put World AIDS Day out of business by eradicating the illness even as we remember and celebrate the people we lost."
Initiatives in action
Fraser Cook & Mark Banfield of The RISE Partnership discussed initiatives in Lambeth:
"We're seeing HIV testing outside clinical environments normalised, working with Brixton Soup Kitchen and at the health and beauty awards. We're working with migrant communities and faith communities to reduce the stigma of HIV. We're seeing a downturn in services for all at-risk groups but we need more prevention work."
Thank you
The Mayor summed up: "We've come so far from the days of press attacks on any local authorities supporting the LGBT+ community. From when people were forced to live a lie for fear of losing jobs, friends and family. But until we consign new HIV infections to history, I want to thank all those working in prevention and treatment – what you do is literally life-changing. I want to thank all those who've volunteered to help my community. On behalf of Lambeth, thank you."
Testing
The Mayor also saw the facilities, welcome and advice on offer while live tweeting from an HIV test at Burrell Street sexual health clinic at Guy's and St Thomas' hospital trust on December 1.