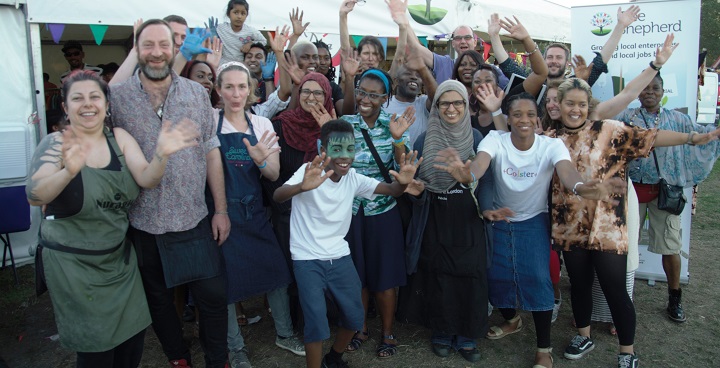 Colin Crooks, 57, CEO of Tree Shepherd, the social enterprise started in Lambeth, has been awarded an MBE by HM the Queen for services to disadvantaged communities after 29 years of helping more than 2500 people across London.
Jobs and working
The entrepreneur has lived near Loughborough Junction for 25 years and was recently in the headlines for supporting local traders facing relocation from Elephant and Castle shopping centre, has brought hundreds of jobs to London's poorer areas, helped hundreds more start their own businesses and is currently working with traders facing the harsh realities of redevelopment across South London.
Word from the Cabinet
Cllr Jack Hopkins, Lambeth's deputy leader, said: "I've known Colin for many years and this honour is richly deserved. Colin has a lifetime of public service, and whether as a local Councillor, running a social enterprise employing those furthest from the job market and now with Tree Shepherd supporting and kick starting other entrepreneurs, everything he has done has been to empower and support others to achieve their potential. For his personal commitment, for his optimism and drive to deliver, and for his humility and selflessness whilst doing all of this makes him the perfect person to be recognised.  The Lambeth family is extremely lucky to have him as a member and long may his commitment to improving things for Lambeth residents continue. Well done Colin."
Creating opportunities
Colin has always been passionate about creating opportunities for the most disadvantaged – employing dozens of unemployed people to recycle paper in Coldharbour Lane, starting Cybercycle, which recruited young people from Angell Town Estate to repair computers, and then setting up Green-Works, which reused and recycled 47,000 tonnes of discarded office and school furniture, creating nearly 1000 jobs for local people. The social enterprise completely furnished temporary classrooms for Haberdashers' Aske's in New Cross one week after a disastrous fire gutted it.
Business start-ups
Over the last six years Colin has worked with South London's communities on a new challenge – helping people start their own businesses and deal with the brutal reality of redevelopment. Tree Shepherd started in 2012, initially based in the Brix, helping over 700 people start small businesses, and creating a trading network leading to 900 jobs. In the last two years Colin's attention has also turned to supporting traders facing relocation due to redevelopment in controversial sites in Peckham, Canada Water, Elephant and Castle and Bermondsey.
Untapped talent
Colin said: 'The MBE came as a huge shock, but I am thrilled for what this represents for social entrepreneurs. Even the most deprived communities are bristling with untapped talent, and for many the traditional job market is just not an option –because of a skills gap, caring responsibilities, or even a basic lack of confidence. For many years Tree Shepherd was a delivery partner with Lambeth adult services, providing enterprise training for local people. Cllr Lib Peck and the whole council have been hugely supportive of everything we have done, from the early days with adult learning to working with social services to help those at risk from eviction, right through to now collaborating with Lambeth Housing to start our community makerspace, GLOWS. I'm excited to see what 2019 brings. It's essential we support local people and are excited by the possibilities they present. "
For more information
To find out more about Tree Shepherd please visit their information & news pages