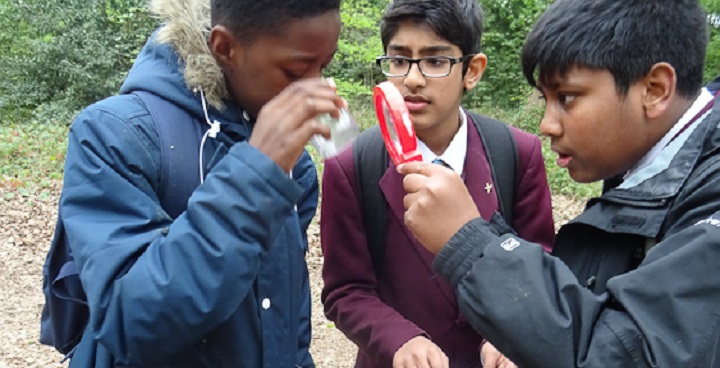 Nature Vibezzz – who run regular forest schools teaching local young people in, and all about, the outdoors – have involved families in making bird boxes, insect hotels, pruning trees to let more light into the woodland, protecting wildflowers and planting trees to help stop littering. This summer, volunteers including local scouts planted 400 trees, removed over 100 sacks of rubbish, and made 4 bug hotels and a bird box in Knights Hill Wood.
Memory and heritage
The project is working to turn two sites into a community and environmental asset, and to collect and share local memories.
Archive training
Volunteers also took part in a training session at Lambeth Archives, ready to start researching facts for a new booklet to tell people about the project and its heritage.
Natural partners
Partner organisations were invited to run free guided walks / workshops:
Tree ID and Woodland Wildlife – Field Study Council
Wild food workshop – Sankofa to Nature
Plant ID workshops – Species to
Herbal heritage: medicinal and other uses of native plants – South London Botanical Institute (SLBI)
Bird ID session and survey – Bird Brain UK.
Wildlife experts collected data for GiGL.
With summer ended, Saturday afternoon activities continue.
For more information
Nature Vibezzz is a charity providing free Forest School, environmental education and practical nature conservation sessions, programs, events and community projects in South London. Keep up to date with free project activities at Knights Hill Woods and Tivoli Park via our activity page. For more information about this and other Nature Vibezzz projects, please email: or phone 07984662996
Thanks to National Lottery players, the Heritage Lottery Fund invests money to help people across the UK explore, enjoy and protect the heritage they care about – from the archaeology under our feet to the historic parks and buildings we love, from precious memories and collections to rare wildlife. www.hlf.org.uk.