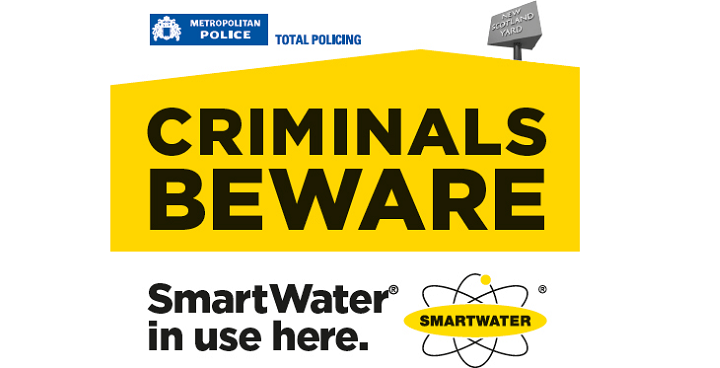 What is MetTrace?
MetTrace is a burglary reduction initiative that will see Metropolitan Police Officers visit selected London Homes to offer crime prevention advice, as well as a free SmartWater® forensic property marking kit.
It is an extension of a year-long, London-based trial that showed that deploying forensic traceable liquids, like SmartWater, led to an average 45% reduction in burglary, with some areas experiencing reductions as high as 89%.
What is SmartWater?
SmartWater is a permanent, traceable liquid that can be used to invisibly mark personal property. It is suitable for marking a wide range of items whatever their size, including jewellery, laptops, and vehicles.
SmartWater carries a unique forensic 'code' which is registered to an address or location. This makes it possible for the police to identify the owners of property where this would otherwise be impossible.
Who will receive a free SmartWater property marking kit?
The Metropolitan Police have undertaken comprehensive analysis to identify where best to offer the kits. Neighbourhoods within the following wards in Lambeth will be offered a free kit.
Clapham Common
Clapham Town
Herne Hill
Larkhall
Thurlow Park
How will I get my kit?
Specially trained police officers will visit each area and will be on hand to provide and demonstrate the kits, answer questions and also offer crime prevention advice.
Police Sergeant Sarah Tynan, the lead on Met Trace in Lambeth, said; "The delivery of SmartWater kits in targeted areas will have a significant impact on burglary reduction in Lambeth. We can't make this a success without you. When my officers come to your home please sign up and protect yourself and your neighbourhood."
"If you're not home we will put 'Met Trace' cards through your door. Please don't throw them away as they have our contact details so that we can visit at a time that's convenient for you."
Councillor Jane Edbrooke, Lambeth Cabinet Member for Neighbourhoods, said: "I would encourage everybody receiving one of these kits to use it as soon as possible. SmartWater technology has been proven to help deter and catch criminals and make London a safer place to live, all it takes is a quick mark on your property, which can't even be seen."
Find out more
You can read more about MetTrace and SmartWater on the Metropolitan Police website.