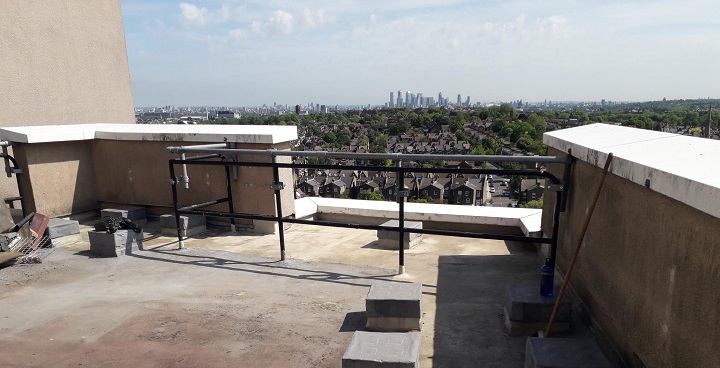 Lambeth's new Minor Repairs Team works to help residents in sheltered housing schemes, as well as checking the roofs of Lambeth's estates for damage and bringing garages back into use.
Sheltered housing
Team Manager Dan Jeffery says: "We're a four-strong team with three main areas of duty. We carry out works for sheltered housing residents – changing locks, fixing floors to prevent trips and falls, sometimes assembling furniture that people have bought and not been able to build. We're helping some of Lambeth's most vulnerable people with a new service. We've also helped out with garden clearance, including at least one who couldn't get their back door open.
Positive feedback
Sheltered scheme managers report back that residents love the new service. Carfax Place in Clapham said: "The team have proved very reliable and efficient.  They always make our elderly and vulnerable residents smile!". And from Chaplin Close, "The operatives are commended by everyone who has had the opportunity to use the service in our scheme."
Extending the life of a roof
"We've started a rolling programme of roof inspections on Lambeth Council's housing estates, physically checking for damage. We've started with the ones that neighbourhood housing offices identify as possibly having leaks or other problems. We do a patch repair with sealant, or report it for a full repair, clear off rubbish that's been left on the roof and report things we find like pirate radio masts. We try to block out a couple of days a week just to look at roofs but it will take years to inspect thousands of roofs.
Creating storage
"We're making empty garages available again, with repairs, clearances, and lock changes. We hope to add pram sheds to our jobs list as soon as we can. A lot of pram sheds are just locked up useless, but there's a real appetite for affordable storage for cycles and pramsheds could easily be adapted to give people something secure and affordable."
For more information
The team have found that most sheltered housing residents prefer to book works through the scheme manager.
Please talk to your housing officer about treating a block roof as an inspection priority or about garages.