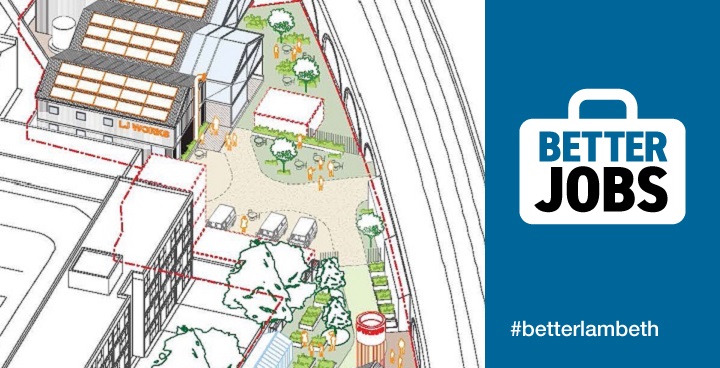 Commercial kitchen space in London is often both hard to find and expensive – sometimes £1000s a month to rent – leaving many small businesses stuck in home kitchens.
Starters
The model of co-working space has been incredibly successful for creative industries like web design and technology. As well as an affordable place to work, people get mentoring from businesses who've faced the same challenges and be part of a community of like-minded people. In the USA, they call it a kitchen incubator.
The main course
Lambeth Council are providing purpose-built space – over 450 square metres on two floors. The ground floor will offer shared kitchens with professional equipment and preparation tables, a walk in fridge and a walk in freezer. There'll also be a small kitchen (booked by the hour) that will also be free for community projects such as cookery classes, free community meals and anti-food waste events. We expect up to 10 small businesses in there at any one time. Upstairs will be space for 6 small, private kitchens for businesses who are already busy enough to cook every day; as well as desk space for members and freelancers keen to work in a creative community of foodies.
Word from the Council
Cllr Matthew Bennett, Cabinet Member for Planning, Regeneration and Jobs said: "By creating London's first shared workspace for food businesses, we hope Mission Kitchen will make it easier to reach the next stage. Most one-person operations aren't in a position to afford or commit to a 20 year lease on a commercial kitchen – we're on a shared mission to create a better alternative."
 Afters
We're excited by the idea of filling the space with cooks creating food inspired by the many cuisines of Lambeth. Food is one of the most important ways we represent our identities, and is a powerful way to bring diverse people and cultures together. In the long term, we want to see our members outgrowing us, needing the space to move on to bigger and better things, and making room for new starters. We also want to see Mission Kitchen collaborate with other local organisations and benefit the local community in a range of other ways, offering food education, encouraging businesses to use locally sourced ingredients, and inspiring businesses to network with each other and people around them.
---
For more information