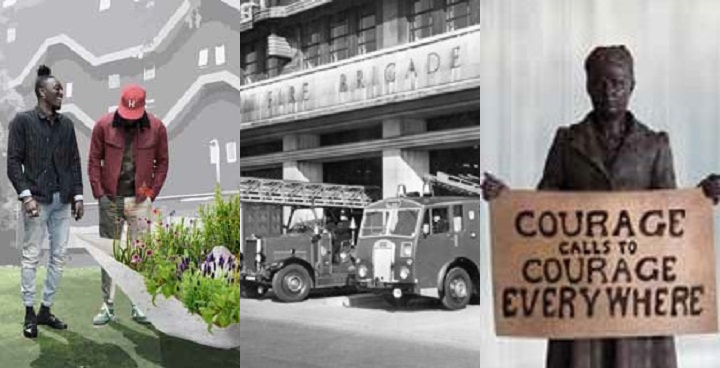 This year's Lambeth Heritage Festival is bigger than ever, with over 90 events. As well as a wide range of different one-off events, the programme includes events that are open every day throughout September.
Month-long events
Concrete Reality – Denys Lasdun and the National Theatre Mon to Sat 9.30 – 4.30
Follow the story from the dream of a 'national theatre' to the reality of Lasdun's award winning South Bank building. Co-curated by architect Patrick Dillon, who led the recent £83M refurbishment, With video of discussion with Catherine Croft of the 20th Century Society.
Rooted – Brixton Design Trail
In his suitcase installation Kofi uses the hibiscus flower to represent the beauty and colour of the Caribbean and its people, and how that merged with the UK culture. Visitors discover art in the corridors of Lambeth Town Hall, the courtyard of the Black Cultural Archives and across Brixton.
Flotilla – Exhibition across Brixton
Flotilla celebrates the beautiful tapestry of cultures that makes Brixton a place we all belong. Concrete 'paper boats' inspired by the MV Empire Windrush become benches, pools or planters. Visitors use their smart phones to hear the Windrush generation describe their feelings about a new life in the UK.
A Walk through Lambeth's History: 10.00 – 4.00, Weds to Sun at London Fire Brigade Museum
The London Fire Brigade pop-up museum hosts a photography exhibition about the history of the Brigade in Lambeth. The images illustrate London Fire Brigade's special relationship with Lambeth through tragedy, conflict and celebrations.
'Immortalised': 10.00 – 4.00, 31 Aug to 16 Sept at the Workshop (Open Wed to Sun)
From statues and street names, to shrines and temporary artworks, 'Immortalised' explores the ways people and events have been commemorated in England, past and present. Stories are told through photographs, archival material and individual objects in an immersive environment that gives life and voice to the monuments and memorials on show.
---
More information