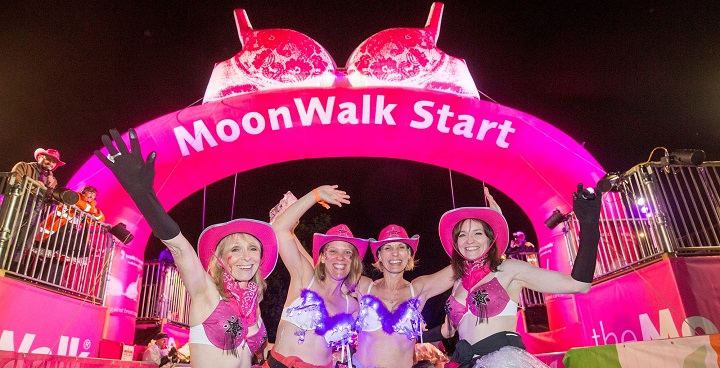 People of all ages across the UK are already taking the first step towards getting fitter this New Year, by signing up for iconic night-time fundraiser The MoonWalk London, organised by breast cancer charity Walk the Walk. Thousands of women and men wearing brightly decorated bras are signing up and getting sponsorship already for a full or half marathon walking challenge through London on Saturday 11th May, to raise money and awareness for breast cancer.
Walking for wellbeing
Apart from raising millions every year, the charity is passionate about encouraging people to realise their own potential for good health and wellbeing by walking.
Step up the pace
Walking anywhere at any pace counts towards our recommended 150 minutes of weekly physical activity. Steps up the pace and commit to power walks four times a week for 45 minutes a time, you can lose approximately 8kg (18lb) within a year  – without any diet changes.*
Walking – almost perfect exercise
Nina Barough CBE, Founder and Chief Executive of Walk the Walk said: "As a New Year begins, many people set themselves impossible diets and resolutions to lose weight, get fit, be healthier…. I want to shout from the rooftops about the amazing benefits of walking! Power Walking has been recognised by scientists as almost perfect – it works the entire body, anyone can do it. Its low impact and weight bearing, good for bones, great for your heart, important in stress relief and mental health – and you know being active can help prevent disease too?
Sign up for your Moon Walk!
"Walking is so accessible. Just step out of your front door and go! Signing up for a MoonWalk will help you to keep focused long after others have given up their goals…start this year by Walking the Walk and you really can change your life!"
Apply now
The 22nd MoonWalk London is Saturday 11th May 2019. This year's theme is "Disco"! Walkers will be grooving on down to the Disco vibe in Walk the Walk's huge pink tent on Clapham Common before setting off on their Half Moon or Full Moon challenge at Midnight. Sign up now for The MoonWalk London 2019