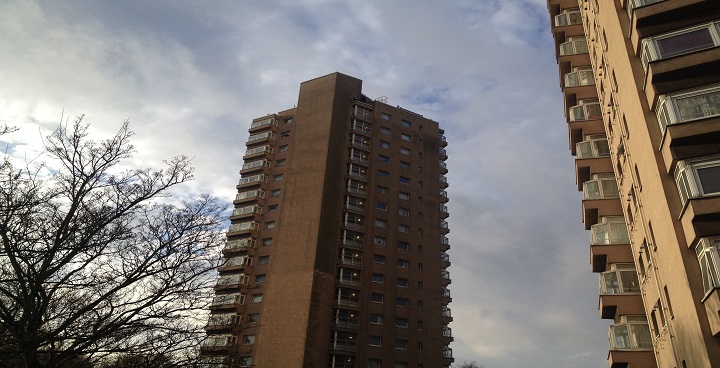 ---
 "I went to see my neighbours who were the first in the block to have new heating fitted. They said I could expect to stop seeing the electric meter spin round so visibly. It's a new and economic system that should save me money. So I said "When's mine coming?"
Before the work started
"Before this we had water pressure problems. Sometimes no hot water, sometimes no cold water. I believe the immersion heaters were too old and were causing leaks and damp.
Praise where praise is due
"There's a lot of negativity in this world but I like to give praise where praise is due. I'm very pleased with the way they did this job. They knew what they were doing. With help I rearranged a few bits and T Brown helped with the rest. I had to go to hospital on the day they were starting and I asked if they could make an early start. They were here at 8am.
Fast work
"I'm quite proud of being neat and tidy and I've never seen workmen bring a hoover along before. I felt like I could trust them. I also felt like I was getting choices in the work – they offered to paint the pipes but I said I liked the natural copper.
"I left them to get on with it and the work was all done by 12.26 the next day. The bedroom feels warmer, even though it's an outside wall, and I feel like that's better for my health, I think it's helped my fibromyalgia and arthritis.
Chilling out in a warmer home
"I've got constant hot water, I can turn the heat on or off, or from 1 to 6, whenever I like. I've had had no problems with the pipes making a noise or the boiler knocking.
"I've had a mix of good and negative experiences with workers coming to this flat, so I was quite stressed before the start and it was having an effect on my health. But now I'm chilled with it all."
---
If you want to find out about the 2017 programme of LHS works on heating, hot water, communal lighting, or on upkeep of buildings, you can see a programme for estates where work the next financial year on https://housingmanagement.lambeth.gov.uk/lhs