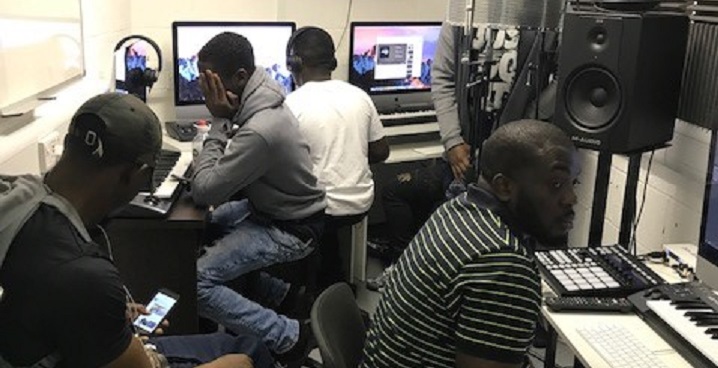 "It was late 2015 when we put in an application to the Evening Standard 'Dispossessed' fund asking for £10K for a new music studio. Though the Community Hall was built in 2011, I don't believe it had ever been used by the 13 to 19 year old age group. We had activities for pre-school children and for pensioners, but we also wanted to include everyone at the community hub, to turn round that teenage feeling of having nowhere to go.
Resident visitors
"We turned a store room into a studio. We spend £7,500 of the grant on iMacs, computer software, furniture and recording equipment. It all finally took off in February this year and we most recently installed air conditioning and some sound insulation.
"At first we thought we had a space that people had asked for but that no one would use. The initial target was to see at least 30 young people come through the project in a year. Since opening, we've had between 350-400 sessions , about 70 people who have come back more than once, and at least 20 who've been here working continuously on their projects. The part-time music technician, Sam Wilkinson, came highly recommended and is working really well with participants.
Feeling included
"There's been a real change in the evenings, from young people hanging around on the estate to now. If they're not actually in the studio, they're in the community centre, using the computers. That's never happened before. It's definitely bringing the community together.
Future plans
"There are three things we've got planned for the future. First is that our landlords, Notting Hill Housing Trust, were impressed enough by the studio that they suggested knocking through into the second storeroom! – so we're looking for funding to do that.
A space for everyone
"The second is that extra space will allow us to include wheelchair users, and we can put aside time for physically challenged people to use the studio for their projects.
Paying its way
"The third is about sustainability. One of our two music technicians, Frank Kennedy, started as a volunteer. He lives on the estate and the studio's users really listen to him. The Committee decided to create a job to employ him part-time. He's been bringing in outside musicians who are looking for studio time. In the longer term, we'd like to see the studio pay wages and pay for itself."
If you're interested in hearing music from the Music Box Project or just learning more about the project, visit the Music Box website