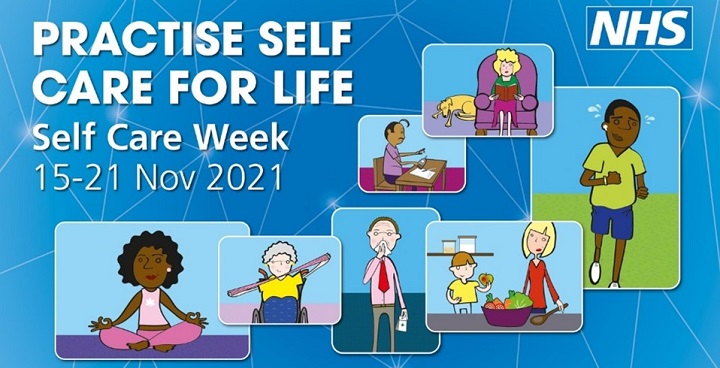 Practising self-care is something we all need to do every day. For ourselves.  For our families.  And for the NHS.
Self Care Week raises awareness of what we can all do to improve our physical health and mental wellbeing. This year, the theme is Practise Self Care for Life – self care in our everyday lives can help us to live as healthily as possible. And better health can help us cope better with challenges.
Self-Care Week is a perfect time for thinking about how we live and making small changes – maybe looking at what we eat or drink, what exercise we do, how much sleep we get; about work/ life balance, or staying connected to friends and family to help us take better care of ourselves and our families.
Knowing what to do and where to go for help – not just your GP practice: pharmacies on every High Street are also health experts can help with all sorts of ailments, or signpost you to the right additional health advice or treatment.
NHS 111 is also be a good resource for health advice for things that are not life-threatening.
The NHS website has lots of information on looking after you and your family.
The Self Care Forum has useful downloadable fact sheets
What is Lambeth's Wellbeing Bus doing for Self Care Week?
Monday 15 Alcohol Awareness Week, Streatham
Tuesday 16 As well as Covid and flu vaccinations, we have our first Ask the Pharmacist session with Ash Soni. We encourage the public to come for confidential chats about any health issues they haven't yet spoken to a GP about. One Self Care Week 2021 key message is that pharmacists are health care experts and the first point of call for any non-emergency medical advice, alongside GPs.
Wednesday 17 the Wellbeing Bus will be in Buckner Road Brixton offering covid and flu jabs but also 1-1 Mental Health advice sessions with outreach worker Jazz.
Thursday 18 1-1 advice sessions at the food hub at Emmanuel Church, Gipsy Hill.
For World Antimicrobial Awareness Week (18-24 November) we will hand out antibiotic awareness checklists and encouraging people to become Antibiotic Guardians