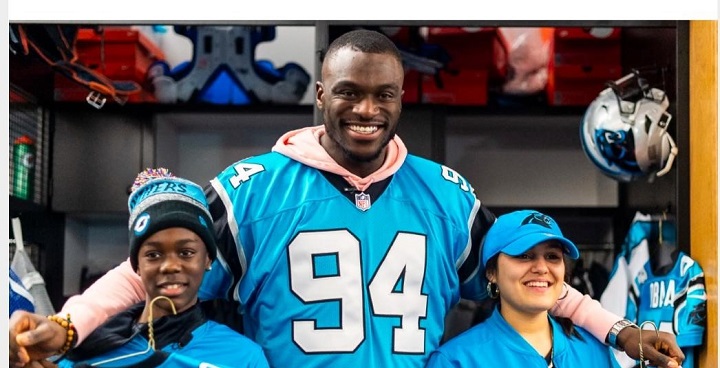 This winter, Carolina Panthers player (and Stockwell native) Efe Obada inspired an NFL UK and Nike programme to promote American Football in the UK.
Partnership with BigKid
The American Football Winter Training Programme was delivered at Larkhall Park, Stockwell, in partnership with local charity BIGKID Foundation.
Stockwell to the NFL
Obada's journey from Stockwell to the NFL was not easy. A refugee from Nigeria, Obada was trafficked to the UK at the age of 10. He was left homeless, and then placed in foster care in Lambeth. At the age of 22, when unpacking boxes and filling up trucks at a warehouse in North London, he bumped into a friend who recommended that the 6ft 6in Obada try an American Football training session. He was scouted shortly after, and the rest, as they say, is history.
Dream big
Obada's incredible story led to this American Football Winter Training Programme in Stockwell, to inspire the next generation of young people to dream big. Jason Brisbane, Head of Community at NFL UK said, 'you never know what will happen if you try something new, and you never know where it will take you'.
Talent spotting
Over 6 weeks, 70 boys and girls from BIGKID Foundation were introduced to American Football. At the end, their fitness and skills were put to the test in 'the Combine'. NFL scouts used this showcase to spot the newest talent. For all these young people, this was a totally new experience; a chance to try out a sport that many teenagers never get access to.
'Keep pounding'
After the Combine, NFL and Nike surprised two very lucky participants, Jayden Taylor and Vanessa Tabares (shown with Obada), with an all-expenses paid trip to North Carolina, home of the Panthers. As Obada said, 'keep pounding, and you'll go places'.
For more information
The BigKid Foundation is a Lambeth-based charity which seeks to help young people at risk of social exclusion and youth violence to find, develop and act on their own potential. See their information pages