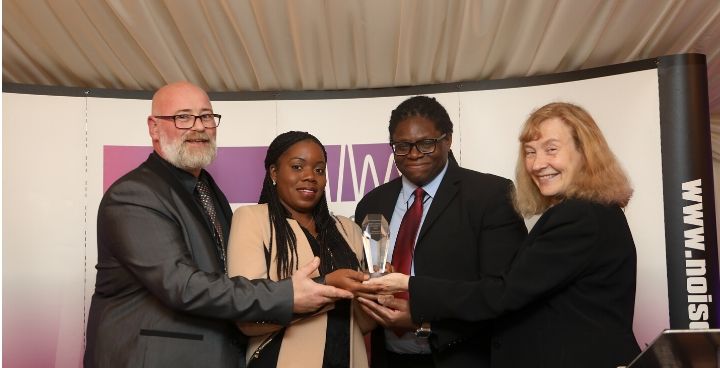 (left to right) Lambeth's Public Protection Officer Keith Badrick, Public Protection Officer Natalie Ariyo and Principal Public Protection Officer Michael Anderson receiving their award from Defra's Director-General Sonia Phippard.
Lambeth council's revamped noise service has been Highly Commended at The John Connell Awards 2019 which were held at the Palace of Westminster.
The awards on October 23 were hosted by Colonel Bob Stewart DSO MP and presented by Sonia Phippard CBE, Defra's Director-General. Members of Lambeth council's public protection team were on hand to collect the award.
Lambeth council launched an improved noise nuisance service in September last year following a review of existing services.
Word from cabinet
Cllr Mohammed Seedat, Cabinet Member for Community Safety, said; "This council is committed to taking tough action on persistent anti-social behaviour and noise nuisance.
"Our revamped service is providing stronger enforcement and swifter responses for residents whose quality of life is diminished by noise nuisance, and I am delighted that this commendation recognises the efforts we have put in."
The awards
The awards are named after John Connell OBE, who lobbied the Noise Abatement Act through Parliament in 1960 when noise became a statutory nuisance in the UK for the first time. The awards acknowledge the importance of the quality of sound in our lives, and champion vital advances in reducing the negative impact of unnecessary noise for the public benefit.
The Highly Commended John Connell Local Authority Award handed to Lambeth Council for 'it's innovative and dynamic out of hours noise service' follows Lambeth's Public Protection Team developing a new operating model for dealing with noise nuisance.
Intelligence-led
The approach focusses on service users' experience based on customer insight and demand data, making it easier and faster for residents to log complaints and get resolutions. Lambeth's new out-of-hours noise service uses proactive intelligence-led interventions.
Residents receive a call-back within 30 minutes of logging their complaint and a single point of contact. While the team's work mainly aims to tackle noise nuisance, officers also now work to identify and investigate issues around Anti-Social-Behaviour, environmental crime and licensing.
Gloria Elliott, Noise Abatement Society Chief Executive, said: "NAS congratulates Lambeth Council for introducing this dynamic out of hours noise service for its community, a great example for other Councils to follow."