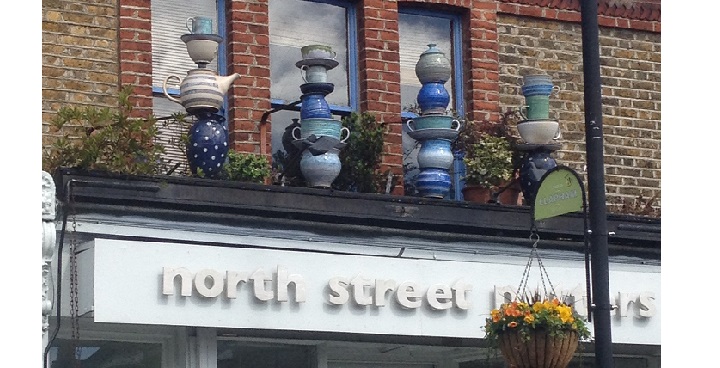 Collective and creative
Naine Woodrow trained as an apprentice in ceramics in Japan, arriving in London feeling she could throw, glaze, and fire anything. "It was important to be a collective where everyone makes something unique to them, not a co-operative where everyone makes the same. It's been a launching pad for potters working now in France, Sweden, the Lake District, the West Country and more.
Fairness and fame
"We're almost famous now for our restaurant work, making tableware for people like Claridges and Michel Roux. 'Handmade in Britain' has become an important idea now we're more aware of carbon footprints. But I think what's equally important is fair prices. We don't charge a five-star chef or billionaire sheik more than anyone walking into the shop. I always emphasise that I'm a professional potter, and those sales encourage the potters and apprentices here to feel part of a successful business.
Resilience and rescue
"18 years ago we risked being forced out of business by rent increases, and customers helped buy our lease. The word 'crowdfunding' hadn't been invented but local people clearly wanted us to stay.
Community and clay
"Ten years ago we took over Clapham Pottery in the old chapel as a not-for-profit community service. All our potters teach there – even some who have their own business now. We have kids from low income families, art therapy classes for women who've been victims of violence and homeless men via Ace of Clubs – many are amazed they're able to be creative.  My favourites are the carers for children with special needs. Most of them love  discovering how expressive clay is.
Family and future
 "A week after our birthday, we're featured in London Craft Week. We've got limited editions made by the 8 people currently in the collective and things by people who've worked here and set up their own businesses. We're like a family, there's an emotional connection to the place and to the clay. I still love it when I open the kiln and see perfect work – not just mine, but everybody's."
---
For more information
For more about North Street Potters – the shop, the tableware for sale and the people who make it – see their information pages or follow them on Facebook
For more about London Craft Week 11-18 May see their official site.