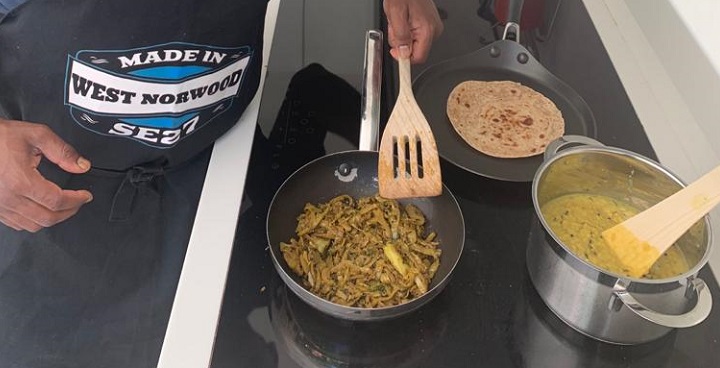 More than ever, people want and need to connect. The Big Lunch has become a summer tradition – connecting communities and getting to know each other better over a cuppa or a bite to eat. For the first time in its 10 year history, it's becoming The Big 'Virtual' Lunch – online, on the phone and on doorsteps this weekend, 6 and 7 June.
Sunday supper
A local Lambeth community has already pioneered sharing a virtual meal – and will repeat the event on Big Lunch weekend. Network Norwood's first #StayHomeSundaySupper on 3 May was such fun, the community wanted to run a second one on Sunday 7 June.
Recipe for success
More than 70 households took part in the May #StayHomeSundaySupper, all cooking and eating the same meal to the same recipe at (roughly) the same time. Local businesses also joined in, cooking the recipe for takeaways. As government guidance now allows us to meet in groups of six, perhaps this is your opportunity to eat – at a social distance – with your near neighbours, friends and relatives. We hope even more people will join in – maybe right across Lambeth.
Lad's curry
This time our recipe will be a vegetarian curry – provided by West Norwood Fea st volunteer and curry expert Parin Lad. You can find the recipe and a step-by-step guide on YouTube and Facebook
Share your supper
We'd love you to share photos and videos of your curry creations. Post them on any social media platform using the hashtag #StayHomeSundaySupper. While you're there, you can find out about other Network Norwood activities and news on our brand new Facebook page.
Also happening on 7 June is #StayHomeFeast – the virtual version of the ever popular West Norwood Feast. Lots of exciting DJs, interactive activities and trader offers.
More information
#StayHomeSundaySupper is supported by West Norwood Forum, West Norwood Feast and the Station to Station Norwood Business Improvement District (BID).
There are lots of ways to get involved with the Big Lunch – online on the phone or on your doorstep. Find out how and download free resources.
Why not use The Big Virtual Lunch to say 'cheers to volunteers' at the end of Volunteers Week, or launch your support for Neighbourhood Watch Week and Carers Week?