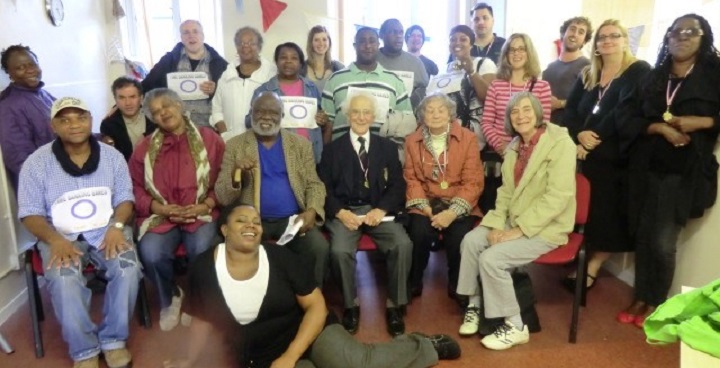 Community group Paxton Green Time Bank has been awarded over £200,000 in National Lottery funding. This will let the group, based on the Kingswood Estate in SE21, reach out to more vulnerable and isolated people in Lambeth and Southwark for the next three years.
Timebanking
Timebanking works on the principle that everyone can share a skill to help others. Every hour members spend helping earns one 'time credit' – eg, an hour of gardening can earn you a lesson in conversational Italian.  Paxton Green Time Bank (PGTB) was founded by two GPs at the local Health Centre who realised many patients could benefit from being 'prescribed' work within the community.
Years of hours
The group – now with over 700 members – runs a full timetable of group activities and social events as well as one to one timebanking. They also share skills and time with elderly residents and local care homes.  PGTB has exchanged over 40,000 hours since starting in 2008!  The new funding will enable PGTB to:
take referrals from more health centres.
employ an admin support worker, offering a way back into work for a local person and giving staff more time with members referred to PGTB with depression or suffering isolation.
Healthy communities
PGTB Director Alison Paule says: "We're delighted The National Lottery Community Fund has recognised our work.  Paxton Green Time Bank celebrates its 11thanniversary this year, and we're extremely proud of our progress and successes. We have grown into a charity open to anyone in Lambeth or Southwark. Thanks to Lottery players we'll continue to co-produce healthy communities."
Great network
Volunteer Jane  says: "Getting help from the reliable and enthusiastic Time Bank members is fabulous, and personally feeling part of the time bank network is really helpful and feels great. It's great to be part of.''
Lottery money changes lives
Sacha Rose-Smith, Head of Funding for London at The National Lottery Community Fund, said: "Thanks to National Lottery players we support more projects addressing loneliness and social isolation than any other funder in the UK. We're delighted that projects such as Paxton Green Time Bank focus on bringing communities together. With their ideas, knowledge and passion, this money changes lives."
For more information