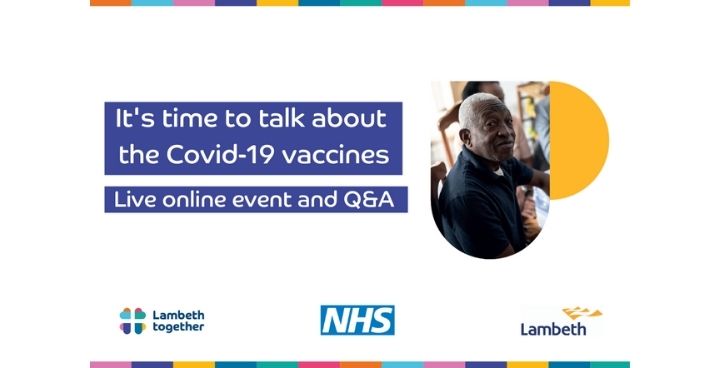 The event will be facilitated by Lambeth Council's Cllr Sonia Winifred and participants will have the opportunity to talk about the vaccine with a panel of people from the Council, Public Health England and representatives from the NHS.
Confidence in the vaccine is growing, with more than 24 million people across the UK having now received their first jab. But among some ethnic minority communities, there is greater reluctance to receive the jab.
Councillor Winifred, Lambeth's Cabinet Member for Equalities, said: "While many have jumped at the chance to protect themselves by getting their vaccine, many are more cautious. People from black, Asian and minority ethnic communities have been disproportionately impacted by the coronavirus pandemic and I understand that some will be unsure or still have questions about the vaccine. It is part of my responsibility as lead for equalities in our borough to make sure that nobody is left behind and so I hope that anyone from these communities will feel comfortable to bring their questions along.  We want to ensure that our residents feel valued, and their views are listened to. Our panel is best placed to answer people's questions about receiving the vaccines available, putting our communities in the best position to make an informed choice when the vaccine is offered to them. "
Confirmed panel members are:
Councillor Sonia Winifred (chair), Lambeth's Cabinet Member for Equalities
Professor Kevin Fenton, Regional Director of Public Health England
Dr Di Aitken, Lambeth GP
Dr Ray Chaudhuri, Clinical Director Parkinson Foundation Centre of Excellence, King's College London
The Reverend Ivelaw Bowman – St Andrew's Church, Stockwell
Dr Hiten Dodhia, Consultant in Public Health, Lambeth Council
Juliet Amoa, Assistant Director Community Health and Engagement, Lambeth Council
Your voice
Cllr Winifred added: "We are asking for residents to submit their questions before the event so our panel has a chance to answer fully. But the most important thing for us is that all voices are heard.
"Whatever concerns or worries you have about the vaccine programme, this is an opportunity to have them addressed by people who are best placed to give you factual information."
Sign up and ask your questions in advance
You can sign up to attend, and submit a question in advance, via Eventbrite.
Notes to editors
Lambeth Together is a health partnership between Lambeth Council, the NHS and local groups to promote wellbeing in the borough of Lambeth