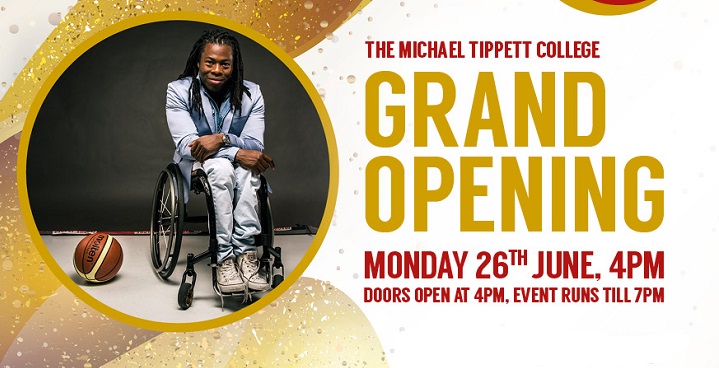 The new Michael Tippett College is the first in the borough of Lambeth to offer Employment and Supported Living learning opportunities to people with learning difficulties and learning disabilities.
Louise Finkle, Head of College (acting) said: "The college opened its doors in September 2017.  It is fitting that this time of year the college has an official opening as the work from last September to June by the students have been part of the creative process in getting the college from a disused building to a place of hope for their futures.
"Our vision is to unlock everyone's potential who walks and wheels through our doors, as each and every one of those young people have a future and it counts. It's not their parent's future, not their teacher's future or anyone else who advocates for them – it is their future. Nobody will 'be in their shoes' apart from themselves. They know what they want. They show us in the most creative ways.
"A marginalised group in society who battle with many obstacles, all of which we could not begin to comprehend. Our young people want to be in work; they tell us that in the way they communicate – and for every single one of those students, it is individual. Just like you and me.
"An ethos which sounds simple but is true to oneself, which is to do what you enjoy and enjoy how you do it. To be valued members in society. In Lambeth, only 2% of those with learning disabilities and learning difficulties are in any form of employment – that includes voluntary work. Nationally it is 6%.  75% of adults with learning disabilities are still living at home. Department of Work and Pensions have stated they want to half the disability employment gap between disabled and non-disabled; to get 1 million extra into work. But as we all know there are barriers getting into work."
Opening event
Commencing at 4pm, the opening will run until 7pm with opportunities for guests to learn about the College and to highlight the successes achieved in the first year prior to official opening.
Having survived polio as a youngster, Ade Adepitan has since succeeded as an international Paralympic wheelchair basketball player and has built up a wealth of broadcasting experience.
Ade has hosted countless sporting events including co-hosting the BAFTA award winning coverage of the 2012 Paralympics alongside Clare Balding, The 2014 Sochi Winter Games for Channel 4, The IPC Athletics, The Channel 4 Anniversary Games, The 2016 Invictus Games – created by Prince Harry and of course the 2016 Rio Paralympics.
The Michael Tippett College, Belthorn Crescent, Weir Road, Balham, London SW12 0NS
Telephone: 020 7326 5890
Email: contact@tmtc.org.uk