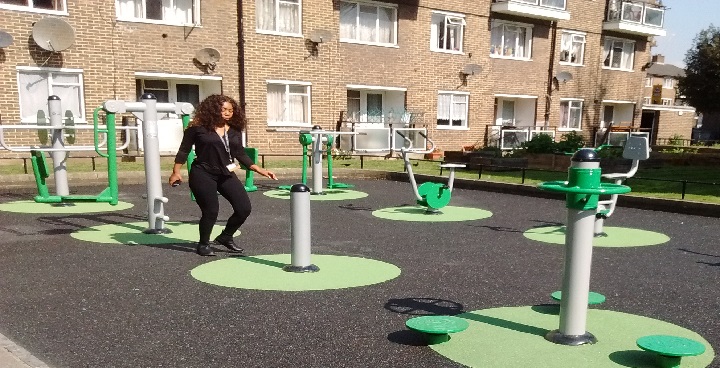 Lambeth's Estate Pride team have just supervised the delivery and installation of four more new outdoor gyms on council estates. The equipment offers residents – and their neighbours – a money-saving way to get into a healthier lifestyle – part of the council's aim for stronger communities.
Keep-fit community
In Edmundsbury Estate, residents asked for a "slim gym" designed to fit the available space. Residents  who  have successfully run a keep-fit group in the community hall for years now have planned a training programme for outdoors. Future plans include encouraging older people out of their homes to exercise and overcome isolation, and to keep fitness inclusive by making use of what's on their doorstep instead of paying for gym membership.
The outdoor life
At Fern Lodge, residents had regularly visited outdoor gyms on nearby estates before asking for their own. In Caldwell Gardens, a new outdoor gym has arrived at the same time as a redesigned garden space with a food-growing area –  creating a whole new environment for leisure and healthy activity to replace railings and concrete squares designed to stop children's games.
Fitting your needs
More than 30% of Caldwell residents took part in a door-to-door survey about the gym they wanted. Consultation on estates always includes showing residents proposed designs with the machines in place, as well as asking 'would you use the gym?'
Whole body approach
Each outdoor gym area is designed with a mix of equipment that exercises different muscle groups in your upper and lower body.  Despite the name, the 'exercise bikes' are designed for upper arm exercising as well as pedalling, and can be easily accessed by a wheelchair user. Outdoor gyms are designed so that you don't need special safety surfaces installed –you should never fall from high enough to hurt yourself.
How do you use your outdoors?
Right now, we're hoping to hear from estates who've used their outdoor gyms for a while:
Have you started up a keep-fit group who socialise as well as exercise together?
Have you – or your neighbours – set yourself a fitness challenge (weight goals? endurance? Or just promising yourself that you'd set a target of exercising X times a week – and sticking to it?).
Do you have different generations exercising together?
Have people you never thought would use an exercise machine surprised you by using your estate's gym?
Let us know – we'd love to interview you for a news story…
Contact Steven Darbyshire, Estate Pride Project Officer