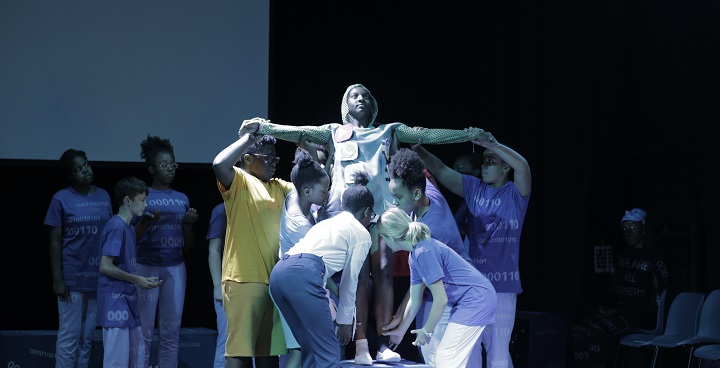 "My name is Imani, I'm 13. I am very passionate about drama and Ovalhouse is perfect for me. From day one, I felt a strong connection within the group. We did lots of improvisation games to help us feel the energy of the group. We explored different ideas based on a strong theme and a powerful message.
Getting the message out
"We had the most amazing and dedicated people working with us. They pushed us to really reach our potential and find things within us we had never discovered before. They helped us to see the abstract side of things and how we can convey a message in any way imaginable. I know for sure that I have a broader mind and I'm open to more possibilities.
Fitting it together with dance and words
After three weeks of summer school, Imani starred in the Ovalhouse show as Siri, Apple's virtual assistant.
"My favourite part of summer school was when we first got to share to the Dance and Spoken Word groups what we had done because we could start to see how everything was fitting together. Although not everything went according to plan, the final show was an amazing feeling to share to family and friends all that we had done and all our hard work.
Qualification and quality
"In addition, all participants are lucky enough to do a Bronze Arts Award. We did activities such as interviewing our leaders to find out more about the arts, watching a play in a theatre to see how performers work together, and sharing a skill with the group to improve our leadership skills and to learn from others. I showed the group some about the guitar. It was really fun to do both theoretical and practical. It really helped with self-reflection and how we can improve our own skills.
Rock the house
"I believed in myself more over the three weeks. It's a really fun experience and I would definitely recommend it to anyone – people who didn't want to be there at first enjoyed the Summer School. Ovalhouse's summer school ROCKS!"
---
Autumn/Winter school starts now
Ovalhouse Creative Youth classes start again this week and run through to December (excluding half term). For more information contact Creative Youth.
Weds 27 September – Weds 13 December Ignite Dance Workshop – street and hip hop dance for 11 to 16s to create their own moves
Weds 28 September – Weds 14 December Innovate Drama – workshops run by top professionals also includes theatre trips
Sat 21 Oct, 4 November & 9 December – We Are London drama and arts group for young migrants age 14-22 – no experience necessary
17 November – LIVE NIGHT! performance