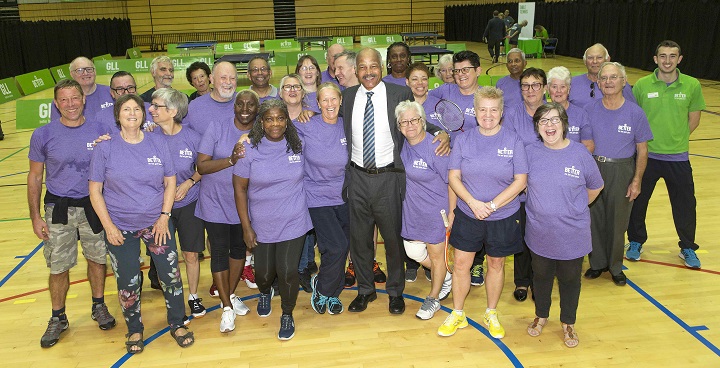 Team Lambeth represented their borough to compete against 700 over 55-year-olds from all over London and the South at the 2018 Better Club Games; an Olympic-style event for older people at the Copper Box Arena, Queen Elizabeth Olympic Park on Wednesday 10 October.
11 sports
Participants took part in eleven sports including walking football, walking netball, badminton, short tennis, table tennis, darts, short mat bowls, timed cycle, timed swim, walking football and dominoes.
22 teams
Out of the 22 boroughs entered, Team Lambeth performed well to finish in sixth place overall – due to fantastic individual competitors who gave Lambeth a top 10 position in all but one sport:
Darts – 6th
Cycle – 4th
Swim – 6th
Short Mats Bowls – 13th
Badminton – 10th & 26th
Short Tennis – 5th & 7th
Table Tennis – 8th
Walking Football – 9th
Walking Netball – 6th
Supported by Lambeth
The Community Team in Lambeth supported the event – our Community Sports Manager organised the entire competition and ran back-of-house operations, whilst the Community Sports Officer managed the Table Tennis competition.
Guest of honour
Former WBC World Light-Heavyweight Champion and star of BBC hit show Superstars, John Conteh MBE was the guest of honour and officially opened The Games. John said: "it was great being part of the Better Club Games at the Copper Box Arena, watching so many teams of people of advanced ages keeping fit, by applying themselves to the numerous sporting events. It inspires me to continue my workout routine, and enjoy the benefits of wellbeing. As my old trainer used to say to me, 'most fights are won and lost on the training ground.'"
Active lifestyle for over-55s
Mark Sesnan, Managing Director at GLL, said: "As GLL is the UK's leading charitable leisure social enterprise we are proud to run the Better Club Games and to celebrate the benefits that regular physical activity and an active lifestyle can bring to both mental and physical health, whatever your age."