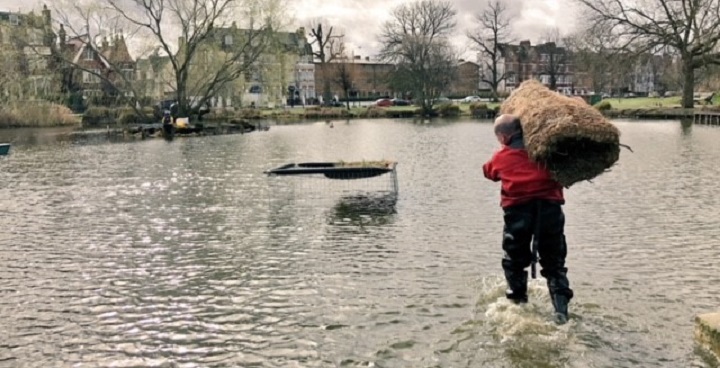 "There's always plenty to do in April in Lambeth's parks, commons and open spaces to get ready for spring and summer.
Premium ponds
"During the Easter holidays we were in drysuits in Eagle Pond on Clapham Common, helping assemble new floating islands for the pond.The islands are designed to enhance the ecology and offer fish protection from being eaten or injured by predatory birds like cormorants and herons. There are five more islands to install under the watchful eye of Clapham Common Management Advisory Committee (CCMAC), the local community partnership that helps us manage and improve Clapham Common for all to enjoy.
Fishing rods pay for better fishponds
"The islands are financed with a grant of £4,250 from the Angling Trust, through their 'Angling Improvement Fund' (AIF) scheme – which is paid for through fishing rod licences issued by the Environment Agency.
New reeds
"The Environment Agency added pre-planted coconut coir rolls containing marginal aquatic reeds to the edges of the main island on Eagle Pond to help stabilise it and create additional wildlife habitat. These, together with the floating islands, will significantly improve the biodiversity and fishing experience of the ponds and Common as a whole.
Splashing out on the ponds
"We've also just purchased over £1,000 of novice/junior fishing equipment, new drysuits and lifejackets with an additional AIF grant of £4,225, so local people in Lambeth can make better and more sustainable use of these unique resources. We're also using this grant to undertake some tree works to pond margins. These will improve access and remove hazards. We will also refurbish some signage, by the end of April 2018."
---
For more information
For more about Clapham Common Management Advisory Committee follow them on Twitter
If you would like to find out what the Council is doing to improve Clapham Common and other local parks/open spaces, or if you want to get involved, contact Lambeth Landscapes or tel: 020 7926 9000
To apply for a fishing licence in England go the www.gov.uk website and apply online