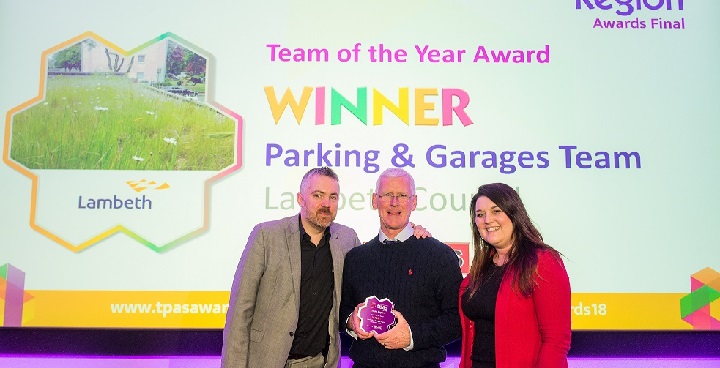 Tpas, the tenant engagement experts who support landlords and tenants across the UK, host annual awards including Excellence in Community Action, Excellence in Tenant Engagement, Community Focused Service/Product of the Year and Excellence in Employment Skills & Training. Lambeth's Parking and Garages Team were voted Team of the Year.
How did the team impress the judges?
Turning the garage service from loss-making to a profit of over £2.3 million a year.
Reinvesting profit into schemes like building green roofs across the borough, with residents setting up a Green Engineers company.
Providing Lambeth's disabled Blue Badge users with free garages – 10% of our stock.
Recycling materials and training our Technical Officers to carry out in-house lock changes and cable repairs, saving £10,000s in repairs.
Offering disused garage sites to assist local community-led organisations, from People Empowering People to the People's Kitchen and the Remakery, an extremely successful initiative.
Reviving moth-balled sites, providing hundreds of extra garages and reducing crime and anti-social behaviour.
Reducing garage voids from 60% to below 1%.
Rapid turnover, which has meant voids never go above 1% and garages are re-let within 3 weeks.
No garage arrears over £150.
Improved project management skills, saving £90,000 per year on garage doors
The judgements
QK & Associates said: "In terms of terminations and lettings in all organisations except Lambeth, the situation is worsening in terms of additional vacant garages. Lambeth has one of the most difficult areas to manage but the lowest vacancy rate."
The team have become chosen advisors for housing organisations looking to improve their garages schemes – including Tower Hamlets Homes, the Peabody Trust, Hammersmith, Kingston, and Southwark Councils and Sutton Housing Partnership. James Caspell, Interim Head of Income, Home Ownership and Business Improvement at Sutton Housing Partnership said: "The passion Lambeth's Garage and Parking Team show for their contribution to public service is second to none. They have not only ensured that their service is highly profitable, but that the estates they have regenerated are significantly improved areas to live."
---
For more information
Tpas has evolved a lot since we started our journey as a not-for-profit tenant's participation service 28 years ago. Today, we support over 200 Housing Associations, Local Authorities, resident groups and contractors covering over 2.2 million homes, to experience the benefits of true tenant engagement. We feel we've grown beyond the acronym, "Tenants Participation Advisory Service" and since 2016 choose to be known simply as Tpas.
About parking and garages in Lambeth
For more information please contact the Garages team: