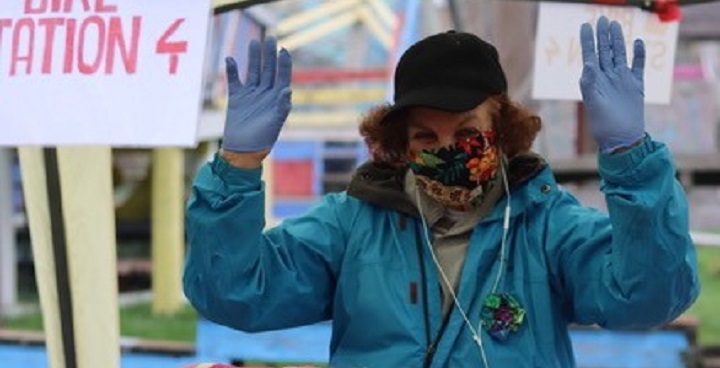 Slade Gardens Adventure Playground had planned a big 21st birthday fundraising weekend for November.  The community-run charity aims to fund another full-time employee so that the space can open more and provide support to more local children and young people.  It is desperately needed.
Innovation in lockdown
Like so many others, Slade's fundraiser had to be cancelled.  The second lockdown made creative thinking a necessity:  what could they do that got the whole community together, was accessible to everyone, but offered a challenge (and not just the challenge of not being cancelled by Covid)?
Keeping your distance over the miles
The answer was 'Pedal for your Playground'. The target set was cycling 678 miles in 24 hours – the distance from Slade Gardens Adventure Playground to John O'Groats. People took it in turns, pedalling non-stop throughout the day and night on static bikes spaced far apart out on the football pitch. People booked in to take their recommended hour of daily exercise and came to ride like the wind (or a light breeze in some cases). Main logistical challenges were to stagger 120 cyclists' arrival for their hour's exercise and get the bikes cleaned before each next rider took over.
Going the extra miles
Cycling all day and night almost doubled the target – over 1,151 miles covered. Sponsored riders raised a staggering £24,000. A huge range of people took part – everyone from the Vicar to local teens and from three-year old to 80-year old cyclists.
Winners and finishers
Local doctors Steve and Rachael Morris Jones separately clocked up top miles in the men's and  women's categories, becoming overall event champions. Both work in local hosptals and had recovered from Covid-19.  The final stretch was cycled by Angus who was diagnosed last year with leukaemia and whose treatment will take another two years. He took up the challenge and took us down the home straight – making for an emotional finish!
More information
You can still donate to Slade Gardens Adventure Playground via their fundraiser page.