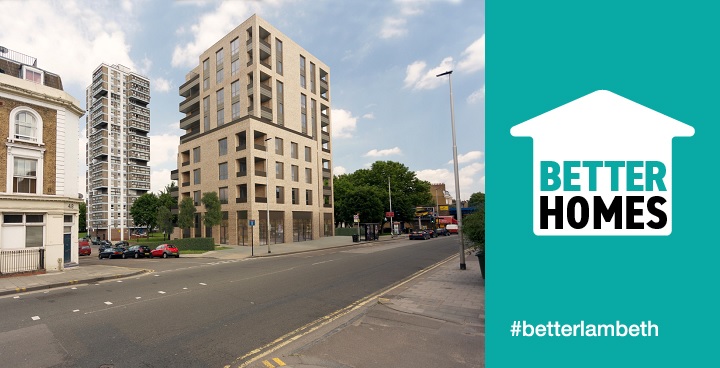 Councillors have given the green light to proposals to build 64 new council rent homes, under ambitious plans to rebuild part of the Westbury estate.
The plans, which will provide better homes for current residents and more homes for those currently on our housing waiting list, were granted planning permission by the Planning Applications Committee, at a meeting in Lambeth Town Hall.
The application was submitted by the developers St James, as a part of the "Section 106" agreement for their development at 22-29 Albert Embankment.
The scheme
This scheme is the first phase of the rebuilding of part of the Westbury estate, that in total will provide 334 new homes, including 153 affordable homes.
The 64 council rent homes provided through phase one will be made available for existing secure tenants living on the estate, so that they can move into brand-new homes with minimal disruption, whilst the rest of the estate is rebuilt. This shows our guarantees to provide every secure tenant a new home on their rebuilt estate in action. This guarantee, along with others which protect secure tenants and resident homeowners, are laid out in our Key Guarantees.
The new homes will comprise a mixture of one, two, three and four-bedroom homes, as part of the council's commitment to build new homes for families of all sizes.
Word from the Cabinet
Cllr Paul McGlone, Deputy Leader of Lambeth Council (Investment and Partnerships), said:
"I'm pleased that planning permission has been given for the first phase of the Westbury estate, which will provide 64 much-needed council rent homes for local families as part of our commitment to tackling Lambeth's housing crisis. We are delivering on our guarantees to tenants to provide them with a brand-new home built to the highest standard on their estate while it is being rebuilt – and the overall scheme will provide dozens of new genuinely affordable homes for local people."
Westbury Estate Masterplan
The wider masterplan for the Westbury estate regeneration, submitted by the council in December 2017, is expected to go before Lambeth's planning committee in March. This application includes plans for 270 homes, of which a minimum of 89 will be affordable.
#BetterHomes
Westbury estate is among six estates included in our estate regeneration programme. This application is part of the wider work, which has already delivered almost 200 new council-level rent homes in the borough since 2014. Further schemes that have already been given planning permission or are in development are due to deliver an additional 700 homes at council-level rent in the next few years.
To deliver this, Lambeth has set up Homes for Lambeth (HFL), a company fully owned by the council. HfL will also build private homes which will help pay for the better affordable homes.
You can find more about our campaign to build #BetterHomes.