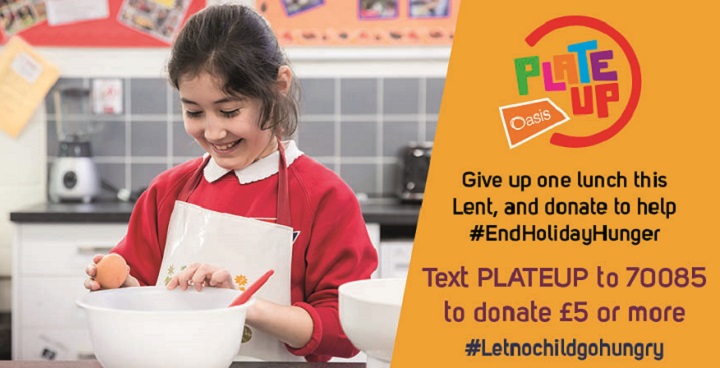 Lent starts Wednesday 26 February and lots of us will give up chocolate or alcohol, but could you give up one lunch and donate the money to tackle school holiday hunger? That's what Lambeth-based community development charity, Oasis, is asking people to do in a bid to raise £15,000 for its holiday hunger clubs this Summer.
Plate Up
"We want to provide a free lunch for up to 3,000 children from families on low income", says Oasis founder, the Rev. Steve Chalke. "If we raise £15,000 we'll be able to plate up 37,500 lunches across our Community Hubs. We hope people will skip a sandwich in Lent and text PLATEUP to 70085 to give £5* (Texts cost your donation amount plus standard rate message) ."Parents often skip meals themselves or live off cereal so their children can eat. Children as young as five are going hungry.' says Rev Chalke.  "We're working with local authorities, businesses, faith groups, and other charities to offer holiday projects where young people will have access to a daily free lunch plus activities such as sports, arts and crafts and music.'
For more information
For more on Plate Up see Oasis ' information pages including online donation
Oasis works in communities where as many as 59% of families live below the poverty line, affecting the lives of 30,000 children. About half of these are entitled to school lunches but when these stop as term ends, parents are under enormous pressure to find money for extra meals. Oasis was set up in 1984 and works to build communities where everyone is included.