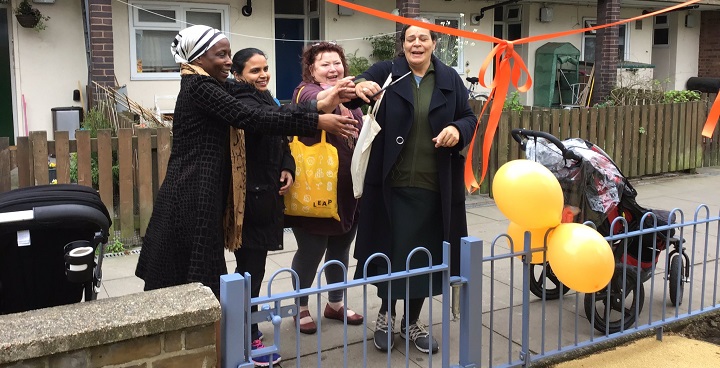 Kids at the Cowley Estate in Brixton Road, Brixton have been swinging into action after improvements to their play area as part of a £158,000 investment.
LEAP Capital Project
The project was led by the Lambeth Early Action Partnership (LEAP) and Lambeth council, and is part of upgrade works at 11 early years hubs, children's centres and One O'clock Clubs.
Word from the Cabinet
Cllr Jennifer Brathwaite, Lambeth council's Cabinet member for Children and Young People, said: "I cannot speak highly enough of the work being done to give local children the best start in life through early intervention. The opening event at the Cowley Estate was such fun. It was great to meet some of the young people their parents and carers, who will benefit from the improvements being made across the borough. The council still faces severe financial challenges and is having to make cuts. But we are working with our partners, such as LEAP, to continue to do all we can for the young people of our borough."
Improving access
The work on the Cowley Estate included improvements to the early years playground and better access between the playground and the estate's community base.
Full swing
Laura McFarlane, LEAP's director, said: "It was a real privilege to be at Cowley Estate and to open their new amenities. The LEAP capital project is now in full swing and it is great to see all the hard work paying off and the improvements to early years hubs around our four wards of Stockwell, Vassall, Tulse Hill and Coldharbour. We hope these improvements will help children in Cowley to develop a range of skills such as healthy living and social development and we look forward to working with more families in the area in the future."
For more information
LEAP is part of the ten-year (2015-2025), £215 million National Lottery funded A Better Start programme set-up The National Lottery Community Fund, the largest funder of community activity in the UK. Five A Better Start partnerships based in Blackpool, Bradford, Lambeth, Nottingham and Southend are supporting families to give their babies and very young children the best possible start in life.
LEAP Capital Project will include rebuilding and refurbishment work on:
The Mulberry Centre
Cowley Early years Hub
Tulse Hill Early Years Hub
Brockwell One O'clock Club
Max Roach One O'clock Club
Mursell Early Years Hub
Loughborough Estate Early Years Hub
Jubilee Children's Centre
Loughborough Children's Centre
St Stephens Children's Centre
Liz Atkinson Children's Centre