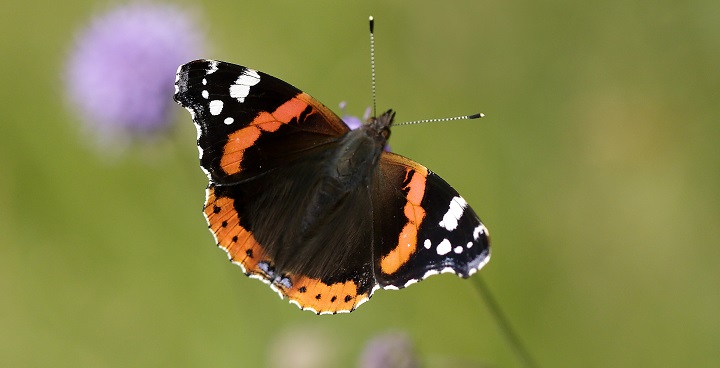 Can you make over just one metre of your garden into a patch of flowers so our butterflies go on doing their essential work of carrying pollen from place to place?
Lambeth butterflies
Around 22 of the UK's 59 butterfly species are found in Lambeth. Some, like the Small White and Holly Blue, can be seen almost anywhere, including along the streets. The Small Tortoiseshell, Peacock and Red Admiral (pictured – Alan Titchmarsh's favourite) should appear every summer in Lambeth parks and gardens. But cold rain and snow this year have taken their toll.
Plots for pollinators
Now Alan Titchmarsh, Butterfly Conservation's Vice-president and celebrity gardener, is campaigning for gardeners to plant small nectar-rich flowerbeds, or a colourful container garden. "The cold start to spring may affect how butterflies fare this year, as they could experience a delayed emergence, meaning they'll have less time to feed and breed – but you can help by creating 'plots for pollinators'.
It won't spoil your garden
"It doesn't have to be on the lawn either – you could create a vertical garden on a bit of unused wall or fence and this would make a huge difference for pollinators." You can use recyclable and recycled containers or be creative and turn tins and tubs into plant pots.
Why butterflies matter
Pollinating insects are important for the fertilisation of other plants (including food crops), trees and wild flowers. Gardens act as important refuges for pollinators, which are under threat from habitat loss, farming practices and climate change.
National connection
Wildlife gardening writer, Kate Bradbury wants us to build a nectar superhighway and connect Lambeth with gardens all over the UK: "Planting just one plot in each of the UK's estimated 24 million gardens will make a huge difference – the whole country would be linked with nectar and pollen-rich flowers."
---
For more information
 See Butterfly Conservation's 'plots for pollinators' campaign pages for a list of suggested plants to help butterflies and top gardening tips from Alan Titchmarsh on how to grow them.
Best local sites to see butterflies in Lambeth include:

Streatham Common and The Rookery
Brockwell Park
Clapham Common
West Norwood Cemetery.  Look for butterflies around the hedges and in the wilder areas – not so much on the grassland areas.

Butterfly Conservation is the UK charity dedicated to saving butterflies, moths and our environment. See their information pages