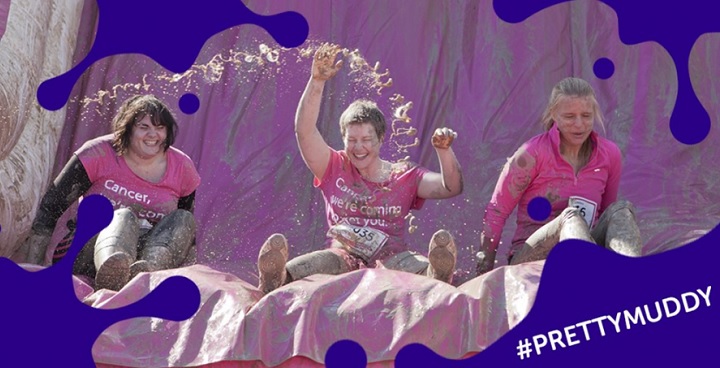 Taking place on Saturday 1 October from 10am, the Brockwell event will be the first time the Lambeth park has played host to the women-only, non-competitive 5k obstacle course – with lashings of mud. And a couple of weeks later on Saturday 15 October, women will be taking on a similar muddy feat in Clapham Common to raise money for Cancer Research UK's life-saving research.
It's not about being fit or fast – Race for Life Pretty Muddy is about sisterhood and overcoming obstacles together as participants of all ages and abilities scramble, clamber, climb or crawl their way to the finish to help beat cancer sooner.
I, Tessa Bailey (on the CRUK team who manage the event), hope as many women as possible will rope in their friends and family and help swell the ranks of Race for Life's pink army.
Pretty Muddy promises all the fun and camaraderie of the much loved 5k and 10k events – with lashings of mud, sweat and cheers.
It's about the power and strength of Londoners coming together in a show of defiance against cancer. At Pretty Muddy, when we fight, we fight we fight dirty!
Since they started a few years ago, Pretty Muddy events have raised millions of pounds to help beat cancer sooner by funding life-saving research – and they just keep on getting more and more popular!
One in two people in the UK will be diagnosed with cancer at some stage in their lives, but the good news is more people are surviving the disease now than ever before. Survival rates have doubled since the early 1970s.
To enter Race for Life Pretty Muddy today visit the Race For Life website or call 0300 123 0770. You can help us beat cancer sooner.