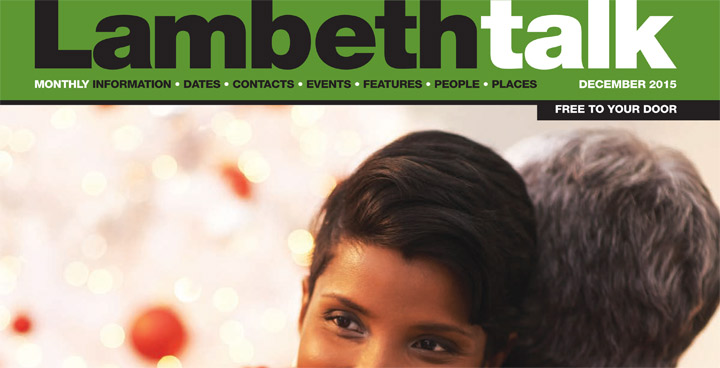 As we welcome December and all the things this busy month brings – festive celebrations, winter, the end of the year – we thought some tips to help you stay well, keep you safe and make the most of what Lambeth has to offer might come in handy.
Dr Adrian McLachlan, a Lambeth GP, provides advice on staying well over winter. Get vaccinated, stock up your medicine cabinet and please keep an eye out for others who may need support. See page 6
On page 7 we ask for your help to create an exhibition to celebrate the role Lambeth Town Hall has had in our lives.
Find out about our real Christmas tree recycling service and changes to your collection day over Christmas on page 9. We also have some useful information on what can be recycled and how to make good use of your Christmas leftovers.
We want everyone to have a happy Christmas and New Year and we want you to make the most of what Lambeth has to offer. On pages 10 and 11 you'll find information on what to do and where to go in the borough, tips on keeping safe while you're out and about as well as at home.
A new community give-back scheme launches this month. Find out what it's about and how to get involved on page 13.
The Norwood and Brixton Foodbank provide support to people in a crisis and would really welcome your support. Find out more about this local charity and how you can get involved. See page 14.
In our regular what's on guide, pages 16, 17 and 18, we have a variety of events from festivals to fairs, carols to knitting.
We also have a special prize competition to win a pair of tickets to a New Year's Eve Hogmanay Ceilidh – see page 18.
Download Lambeth-talk-December-2015
Have an idea for Lambeth talk?
If you have something you want to tell residents and local businesses about or if you know of someone, a project or organisation in the borough that you think would be great to feature in Lambeth talk let us know.
Email lambethtalk@lambeth.gov.uk or leave a comment below.